KL KL-LED-MSZ4 Veterinary LED Cold Source Shadowless Operation Light Surgical Lamp(AC/DC)
Brand: KL
Availability:

In Stock
KL KL-LED-MSZ4 Mobile LED Cold Source Shadowless Operation Light Surgical Lamp(AC/DC)
KL-LED.SZ4 series shadowless operation lamp are suitable for the requirements of various operation conditions and it is ideal operating lighting equipment for modern operation rooms and clean operation rooms.
Features
Imported LED cold light source is adopted , with the ultrathin optical lens.
Digital means are adopted for stepless regulation of LED brightness.
Light field size can be adjusted by the handle.
The removable handle sheath can be disinfected .
The service life of LED shadowless lamp is long (50,000h).
Color temp can be adjusted in three steps.
The imported switch power supply is adopted to control the voltage, making the work voltage permanently stable.
The no welding titanium alloy arm,Imported spring arm make sure the lamp head adjusted easily and freely.
Keeps You Cool&Wound Care
The LED cool light without infrared together with our Nano coating heat filter the exceptionally low heat dis- sipation(3.3mW/m²lx), which avoids the problem of heating the area around the surgeon's head, and pr- events desiccation of expo- sed tissue, and is good for the quickly recover of the wound.
Excellent Shadowless Capacity
The well-proportioned LED bulbs deliver a 160,000lux of pure, white light,a bright, consistent spot on surgical field regardless of obstruction.
Ultrathin optical lens and Nano coating heat filter make a great shadowless and cold light effect.
Specification:
Illumination of light : 140,000 Lux
Diameter of Light : 500mm
Size of Light Field : 120-300mm
Working distance of the light: 150cm
Color Rending Index : 93 RA
Color temperature : 4500K±500K (in three steps)
Number of the bulbs : 32
Service time of the bulbs : 50000 hours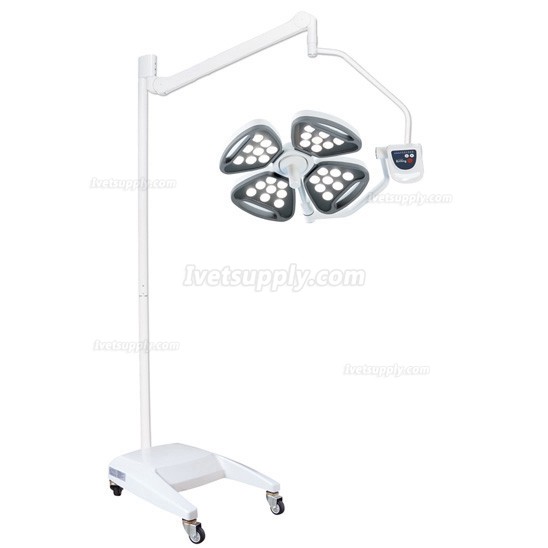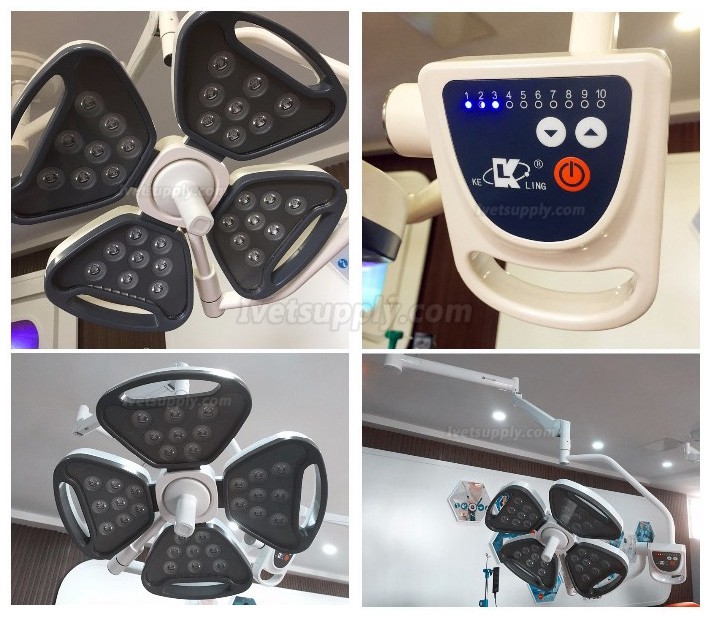 Prev:
CONTEC ECG300G-VET Veterinary Digital 3-channel 12 leads Electrocardiograph ECG /EKG
Next:
HFMED HF-L3+3 Veterinary Led Surgical Light Ceiling Operation Lamp CE ISO FDA Approved
Related Products