How can using a veterinary microscope help a veterinary clinic?
Microscopy is an Essential Technique in Veterinary General Practice.
Veterinarians, veterinary technicians, and veterinary assistants use microscopes to view blood and animal fecal samples or animal fluids. Our hospital most commonly uses microscopes to check fecal samples for parasites, diagnose skin conditions, take a closer look at urine samples (urinalysis), and other cytologies. Masses and tumors may require further investigation by taking a biopsy and sending it to our outside lab for full histopathology.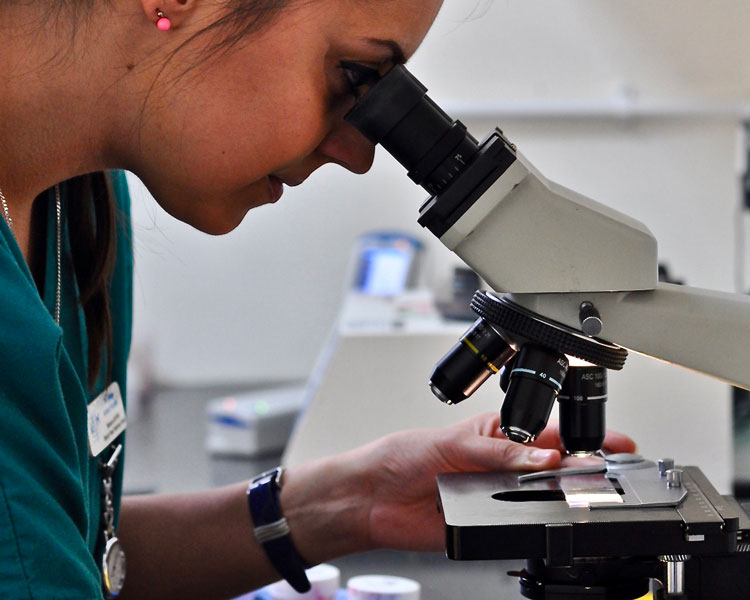 A cytology is the microscopic examination of cell samples. Cytology can be used to diagnose growths or masses found on the surface of the body, and also to assess bodily fluids, internal organs, and abnormal fluids that may accumulate, especially in the chest and abdomen. Cells can be collected using various methods including fine needle aspiration, skin scraping, impression smear, cotton-tipped swabs, or lavage. A biopsy is the surgical removal of a representative sample of tissue from a suspicious lesion. The most common biopsy techniques are punch biopsy,wedge biopsy, and excision biopsy. The tissue is then processed and is examined under a microscope via histopathology. Histopathology allows the veterinary pathologist to make a diagnosis, classify the tumor, and predict the course of the disease
Will our practice use a microscope enough to justify the cost?
The short answer is yes! Once you've given consideration to what your practice is likely to most use a microscope for will help you to select the best one for you. And once you have a good scope that's a pleasure to use, you'll definitely realise that there's more cases you'd like its assistance with than you originally thought. You might find that you actually enjoy microscopy (shock!)
Some of the veterinary procedures your practice may use a scope for include:
Parasite screening and worm egg counts
Urinalysis
Assessing semen quality
Assessing oestrus in breeding bitches
Smears (blood, lesion impression etc)
Skin scrapes and hair plucks
Faecal worm egg counting
A vet microscope is a relatively cost-effective way of improving in-house lab investigations and case management, providing immediate results and facilitating swift treatment for your patients. With a little staff training to ensure proper use and care of the practice microscope, it can increase revenue and patient care within the practice.