Veterinary Electrosurgical Unit ESU Bipolar Diathermy Machine Bipolar Coagulator Portable 100W
Veterinary Electrosurgical Unit ESU Bipolar Diathermy Machine Bipolar Coagulator Portable 100W
Characteristics
Microprocessor controlled Portable Electrosurgical unit, with the ability to automatically adjust, designed for various operations. Especially for Transformation Zone (LLETZ/LEEP); and cervix, vagina, vulva and perinatal region biopsies. Activation Option Designed to perform cutting and coagulation during surgical procedures, output activated by handswitch or Footswitch.
Intelligent Device System
The intuitive design and user-friendly set-up of the AHANVOS Electrosurgical Generator(diathermy)for us in the modern operating room, it features both monopolar and bipolar functions to satisfy all the surgeries demands with safety, flexibility, reliability and convenience.
REM(Return Electrode Monitoring)
Return electrode (for Monopolar) with quality monitoring system(REM). This REM system continually monitors patient impedance levels and deactivates the generator if a fault in the patient/return electrode contact is detected, at the same time with Audible and Visual Alarms.
Automatic self-test
When switch on the machine, it will start automatically self-test routine prior to operation.
Monopolar Cut
Monopolar outlet, 3-pin (4mm) standard outlets Different effects for cutting modes , pure cut for fast tissue dissection, while blend cut with a slight coagulation effect.
Monopolar Coagulation
Different coagulation modes provides precise, moderate, enhanced, contactless coagulation effects.
Bipolar
Coagulation with Froceps for contact coagulation without sparking Compatible with other Equipment Optimum Smoke Evacuation System
Multilanguage Available
Language options:English, Spanish, Portuguese, Turkish and etc.
Application of Use Dermatology, Orthopedics, Plastic surgeries Cerebral surgery, Microsurgery, ENT surgery and etc.
Electrosurgical Accessories
1.Power cable plug
2.Disposable ESU pencil
3.Disposable ESU plate
4.Reusable plate cable
5.Two Button Footswitch
6.Reusable Bipolar forceps
7.Reusable Bipolar cable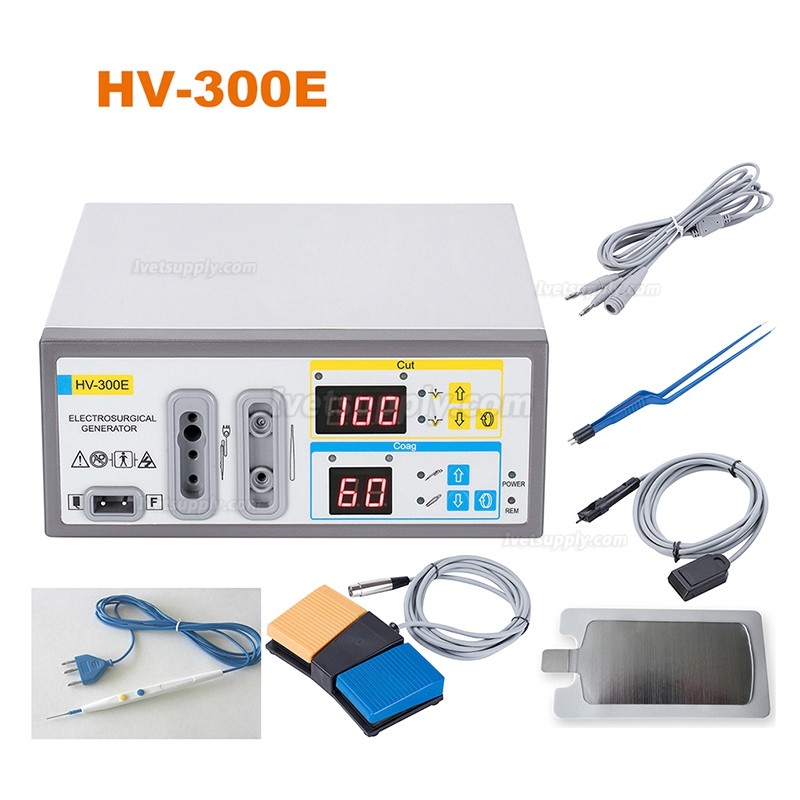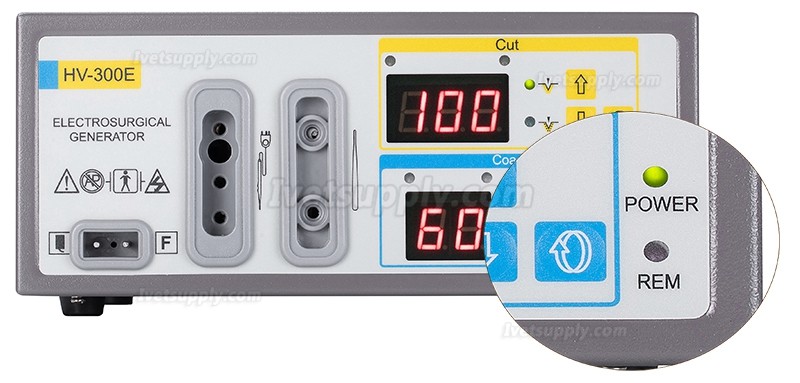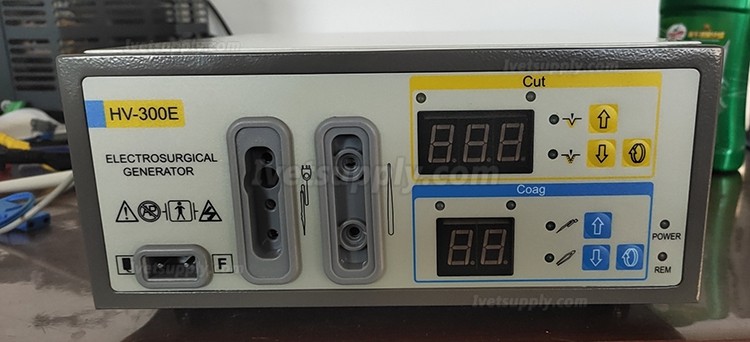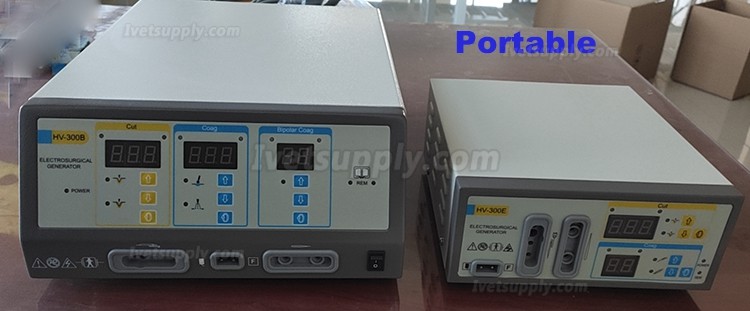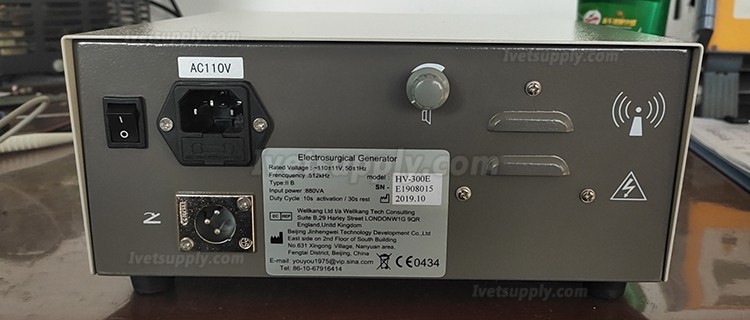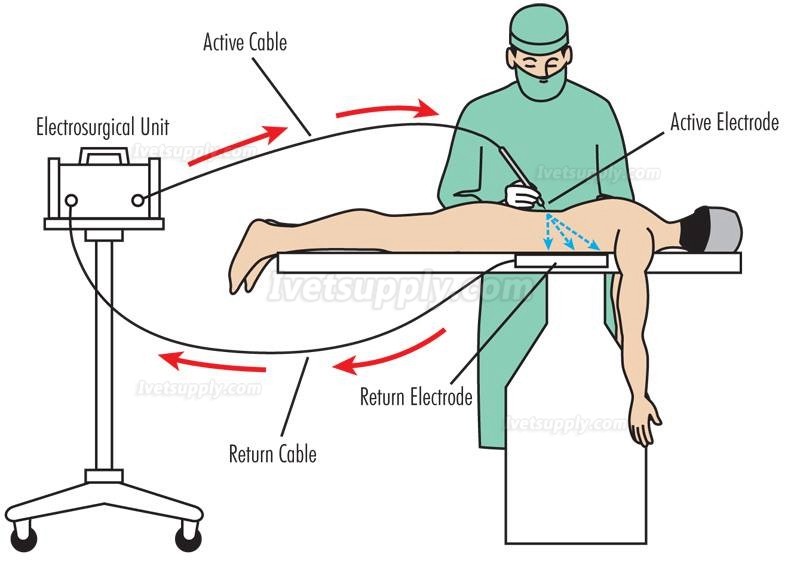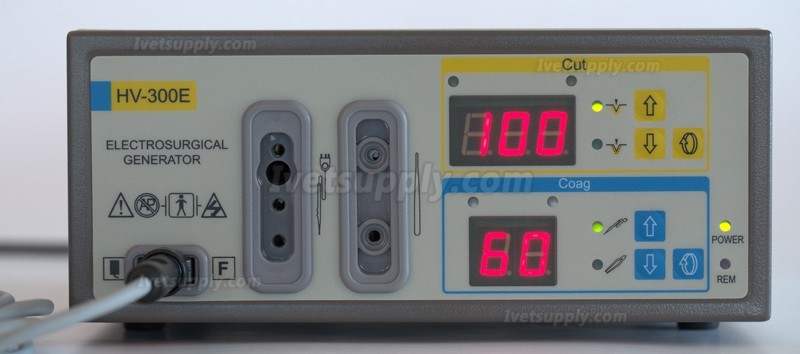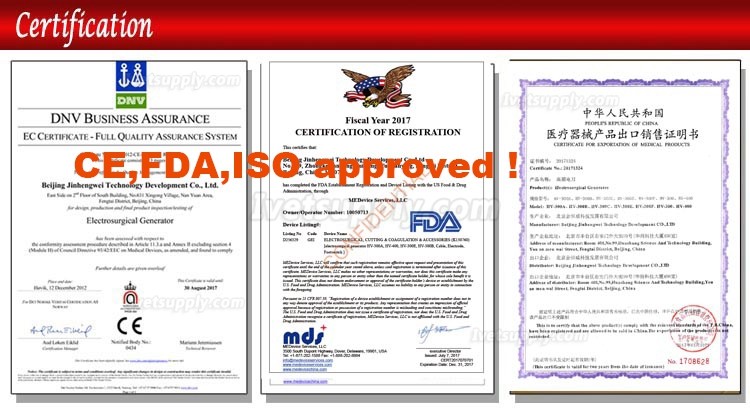 Prev:
Veterinary Electrosurgical Unit Diathermy Machine Electrocautery Surgery Cut Electrotome
Next:
Veterinary Electric Orthopedic Bone Drill
Related Products