Genrui KT6300 Veterinary Auto Hematology Analyzer Vet Blood Analyzer
Brand: Genrui
Availability:

In Stock
Genrui KT6300 Veterinary Auto Hematology Analyzer Vet Blood Analyzer
Introduction
The Automatic Hematology Analyzer is an in vitro diagnostic device that used for quantitative analysis of blood cells in medical laboratories, and it can realize three classifications of the count results of white blood cells. This analyzer is a clinical inspection instrument for screening. When making a clinical judgment based on the analysis results, the doctor should take the clinical examination results or other test results into consideration. This analyzer is suitable for the detection of white blood cells, red blood cells, platelets, hemoglobin and other parameters and counting of white blood cells into three classifications.
Features
Automatic storage of test results, review and print all parameters in test results;
Color touch screen, all parameters and histograms can be displayed in the same screen;
Support the expansion of external devices such as mouse, keyboard and printer;
Optical five reference ranges: newborn, children, adult women, adult men, and general use;
Multiple clogging elimination methods: high-pressure burning jewel hole, high-pressure reverse rinsing and soaking;
Automatic cleaning of sample probe;
By VGA interface, external projector or external display screen can be connected;
Chinese and English system language;
Built-in thermal printer, serial port printing and other printing methods;
With quality control management and calibration management function;
Use the cyanide-free SFT method (environmentally friendly) to measure hemoglobin;
Floating boundary algorithm and histogram abnormal prompt function.
Performance
Test parameters: WBC 3-part differential counting, 23 parameters (including WBC, RBC, PLT color histogram);
Measurement principle: counting by electrical impedance method, colorimetric method to measure HGB;
Quality control method: L-J, automatic drawing and printing of quality control charts;
Sample volume: trace detection, 10μL peripheral blood or anticoagulant blood, pre-dilution mode 20μL;
Precision: WBC (white blood cell) CV≤4.0%, RBC (red blood cell) CV≤2.0%, HGB (hemoglobin) CV≤2.0%, PLT (platelet) CV≤8.0%, MCV (average red blood cell volume) CV≤3.0% ;
Accuracy: the allowable relative deviation range: WBC≤±15%, RBC≤±6.0%, HGB≤±6.0%, PLT≤±20.0%, HCT (hematocrit)≤±9.0%;
Blank count: WBC≤0.5×109/L, RBC≤0.05×1012/L, HGB≤2.0g/L, PLT≤10.0×109/L;
Carry-over: WBC≤3.5%, RBC≤2.0%, HGB≤2.0%, PLT≤5.0%;
Linearity deviation: WBC≤±5%, RBC≤±5%, HGB≤±3%, PLT≤±10%;
Related coefficient: WBC≥0.990, RBC≥0.990, HGB≥0.990, PLT≥0.990;
Display: color LCD touch screen;
Detection channel: dual channel;
Test speed: 35 (or 60) specimens/hour, continuous working for 24 hours;
Data storage: It can automatically store more than 30,000 groups of complete results (each result has three histograms);
Interface: RS232 interface, VGA interface;
Power supply: ~100V-240V; 50/60Hz.
Accessories
Mouse
Thermal print paper
Power cord
Grounding cable
Serial cable
Pipe assembly (for Diluent, Hemolytic agent,Waste liquid respectively)
Touch pen
User manual
Key of device side board
Physical characteristic
Dimension: 433mm(L)×300mm(W)×430mm(H)
Weight: 19kg
Operating Environment:
Temperature: 18℃~25℃
Relative humidity: ≤80%
Atmospheric pressure: 86.0kPa~106.0kPa
Storage Environment:
Temperature: -10℃~55℃
Relative humidity: ≤93%
Atmospheric pressure: 50.0kPa~106.0kPa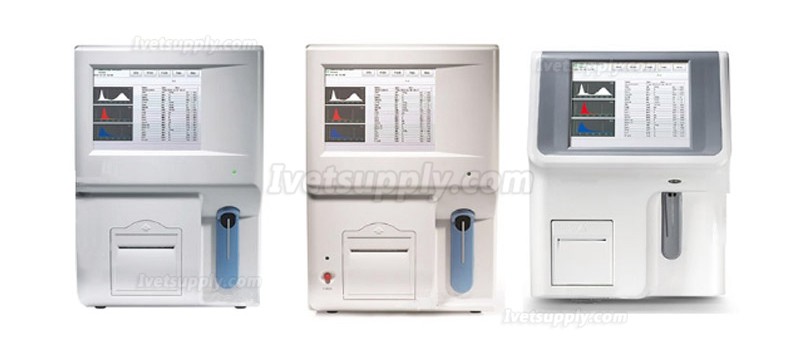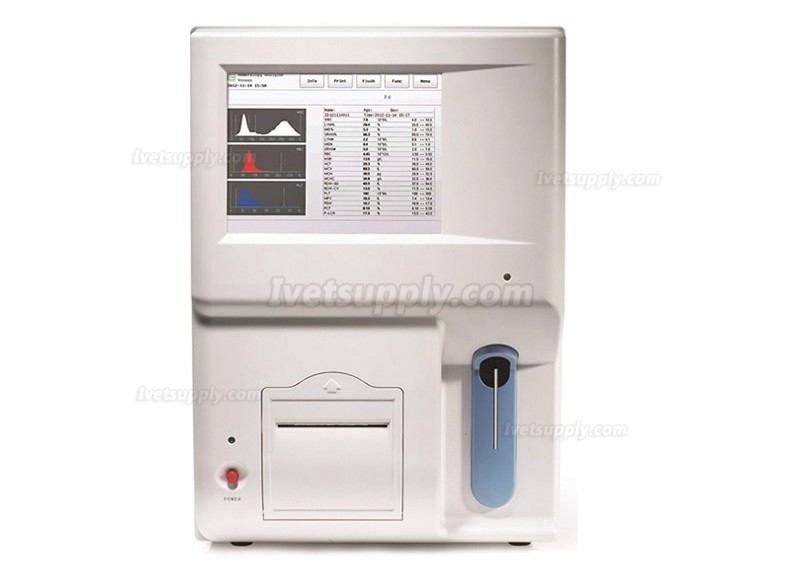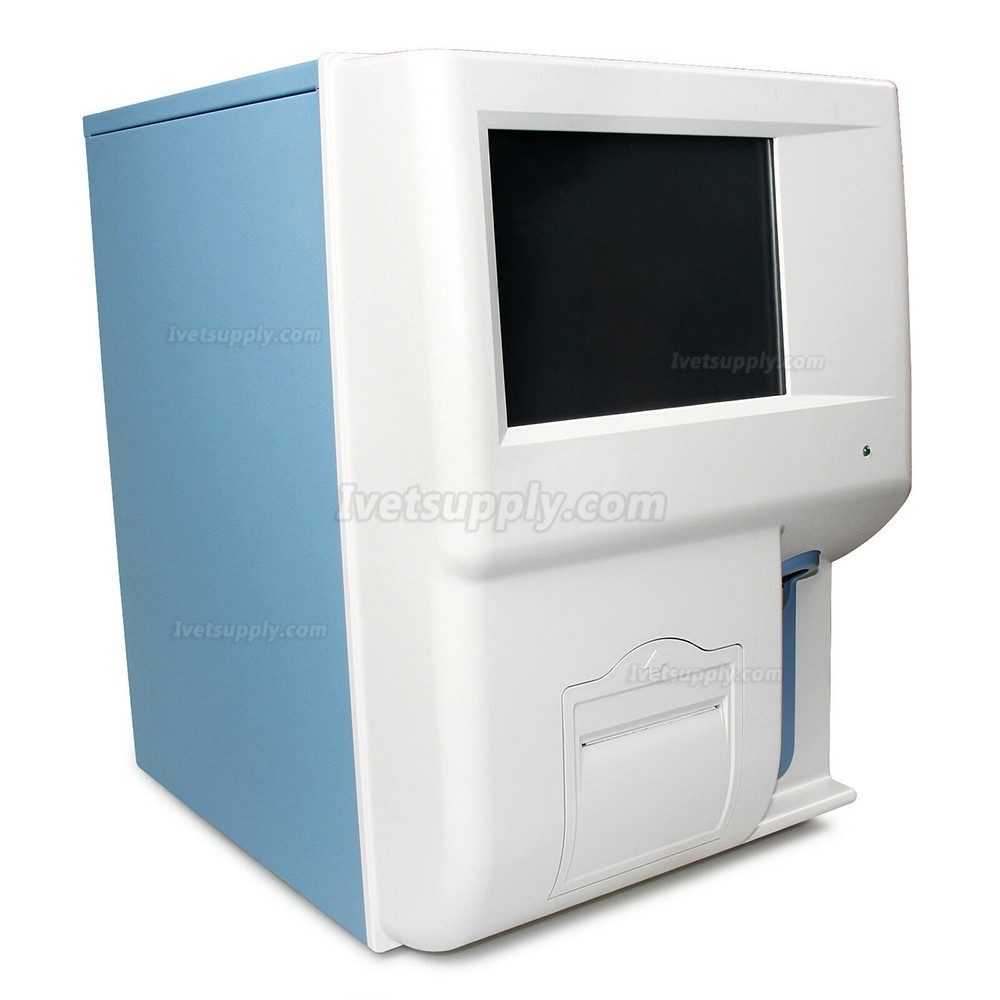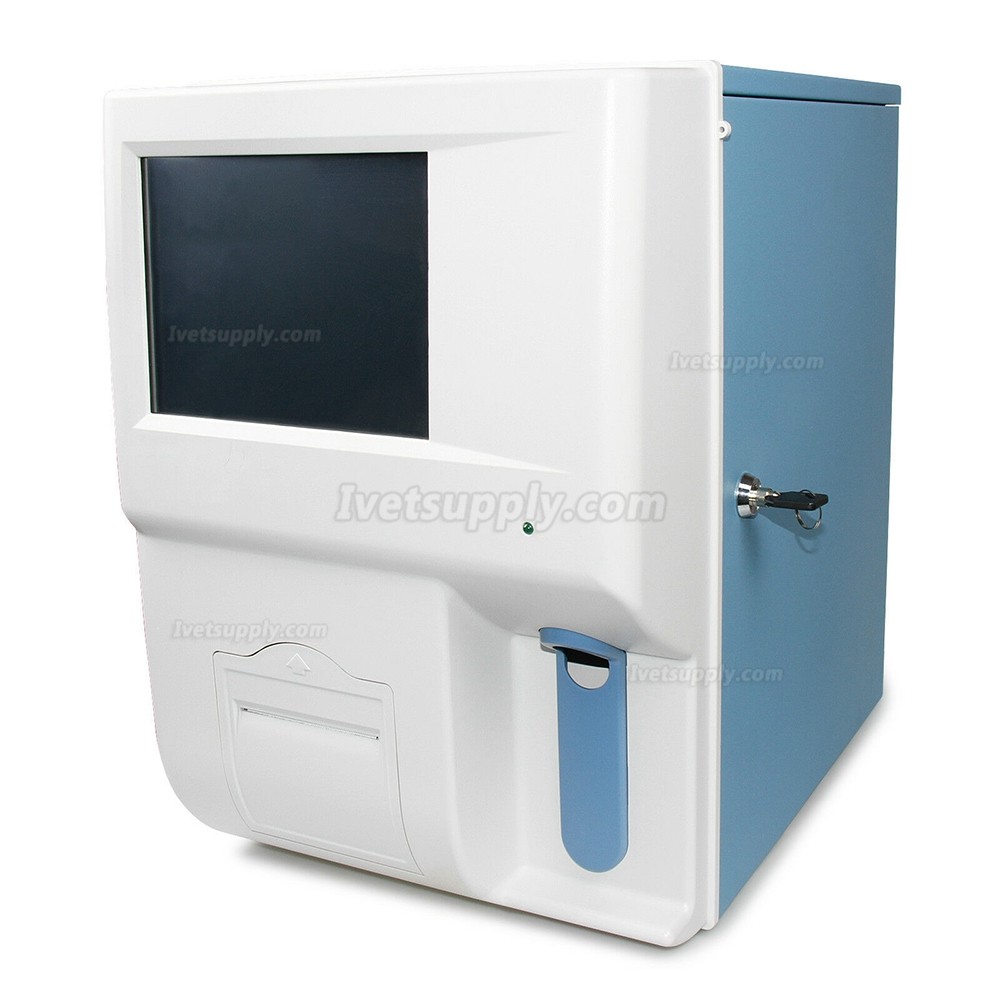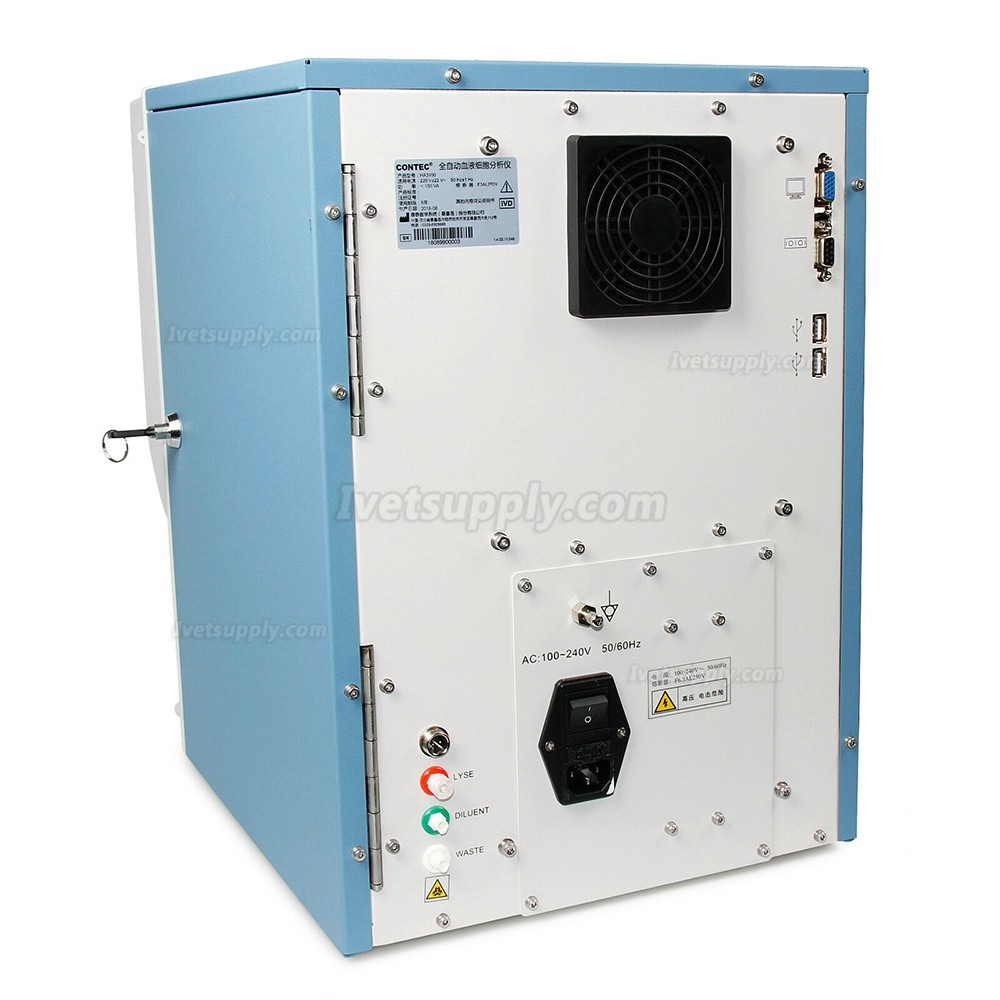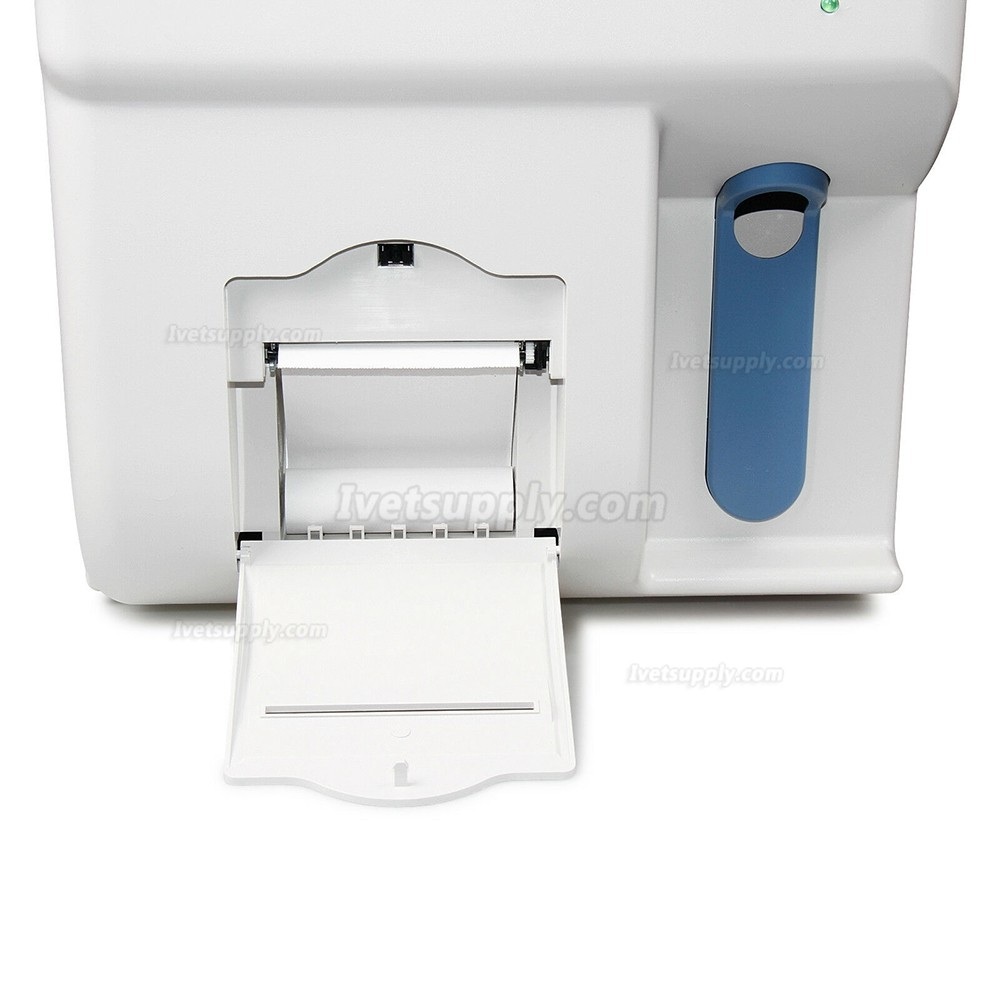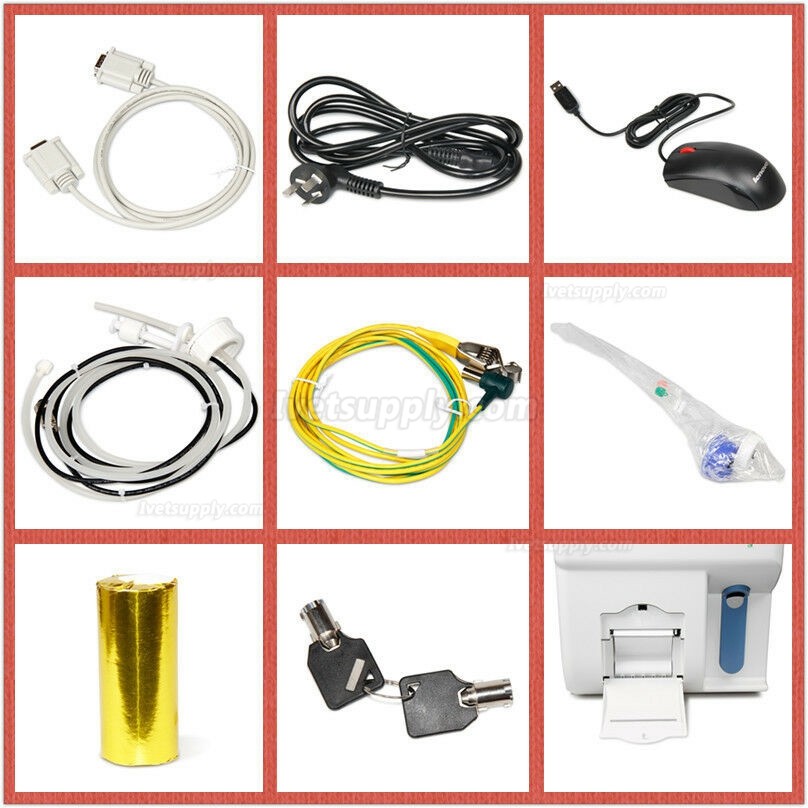 Prev:
Genrui BA600 Veterinary Urine Analyzer
Next:
Veterinary Mobile LED Operating Shadowless Lamp Exam Lighting Medical Examination Light
Related Products