Veterinary Portable Extracorporeal Shock Wave Therapy Machine MB2000
Veterinary Portable Extracorporeal Shock Wave Therapy Machine MB2000
Product Introduction:
CA52 VET is an easy-to-use semi-auto coagulation analyzer equipped with precise pipette. Small volume of sample and reagent is needed for tests to save cost, for sure it is designed to meet the requirement of small veterinary lab or clinics.
General Introduction:
A shock wave is defined as a wave with a rapid increase of increase of pressure within a very short time and then having a gradual
decrease of pressure with a small negative pressure phase.Shock wave is aimed at the affected areas that are the source of chronic
pain.The influence of the shock waves causes to the dissolution of calcium deposits and leads to better vascularization.The after-effect is relief from the pain.
Shock wave has the following effects:
>Cellular:Increase in cell membrane transmittance by improving ionic channels activity,stimulation of cell division, stimulation of cellular cytokines production.
>Reproduction of vessels in the area of tendons and muscles:Improvement of blood circulation,increase in concentration of growth factor beta 1,chemotactic and mitogenic effect on osteoblasts.
> Effect on nitrogen oxide system:Bone healing and remodelling.
>Improvement of mocro-circulation and metabolism.
>Dissolution of calcified fibroblas.
>Support the production of collagen.
>Reducation in issue tension
>Analgesic effect

Advantage
1.By the targeted application of the shockwaves, stress to the surrounding tissues is quite insignificant.
2.The body is not burdened by pharmaceuticals, except the short-term effect of local anaesthesia, if used.
3.The possibility of preventing the necessity of surgical intervention and its relevant hazards.
4.For some indications, such as Tennis Elbow, there is really no other effective treatment.

Operation
1.Clean the treatment part.
2.According to the treatment part to select appropriate handpiece.
3. Set suitable frequency(the max range is 1Hz~21Hz) and energy(the max range is 1.0bar~4.0bar). The ED functions frequency is from 1-21Hz,The intensity is from 0.5bar-2.0bar
4.Operating on.Beautician hold the work head in one hand and place the handpiece on area/point of treatment just ok. The weight of the work head means that it is normally not necessary to apply pressure to the treatment area/point.
5.Clean the leftovers with hot towel, use warm towel to clean the work head after treatment.
Cautions:
1.Do not use gel or other lubricants on the treatment parts, preventing the lubricants get into the work head.
2.Despite high internal damping as a result of the weight and design af the work head,continuous vibrations may cause strain to the user's hand.
3.To avoid heat accumulation in the work head , it is essential to ensure that the air vents at the top and particularly on the base of the work head are not blocked by the hand holding it or anything else.
4.Applicator head are expendable parts and must be replaced after a certain period functionality.
Product Paramenters
Technical Parameters

Input Voltage

AC 220V/50 110V/60Hz

Output Power

230VA

Packing list

Host

1SET

Shock wave work head

1PC

Serice brake

1PC

Handpiecs

1SET(7PCS)

Frame place

1PC

Power supply line

1PC

User manual

1COPY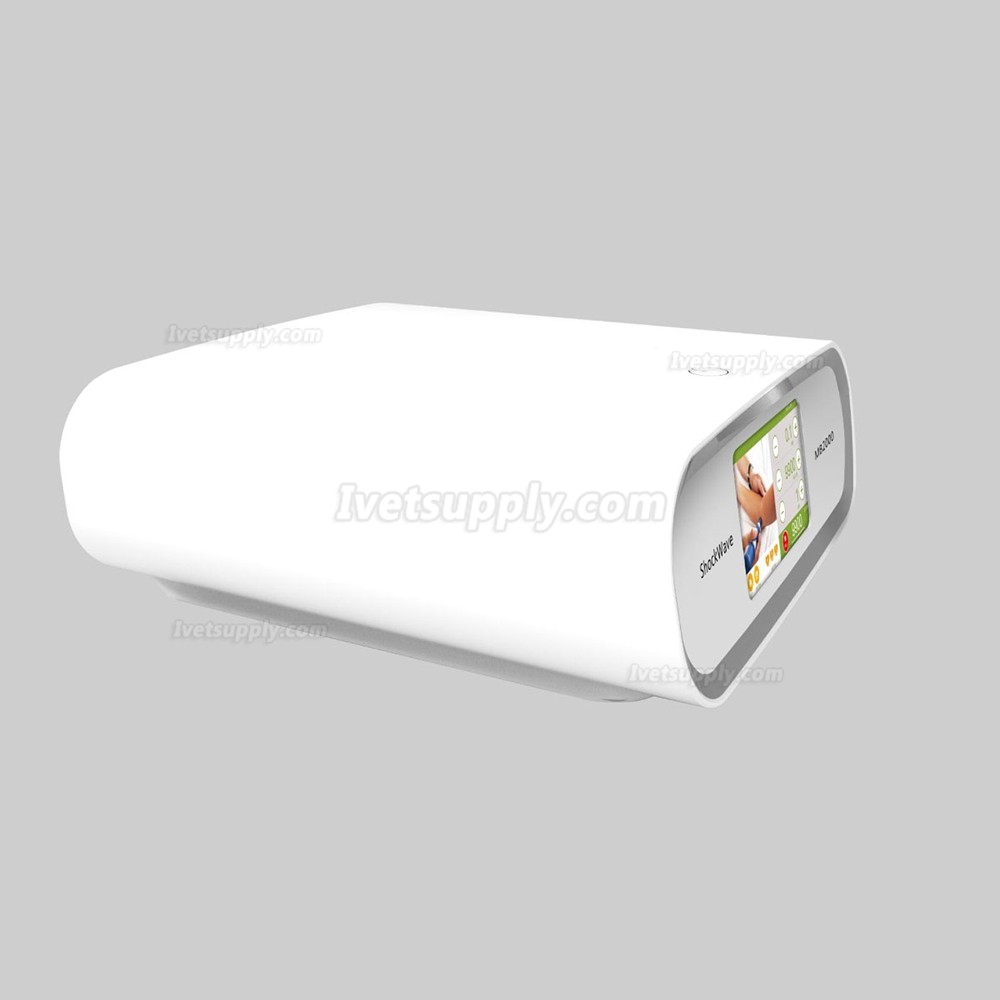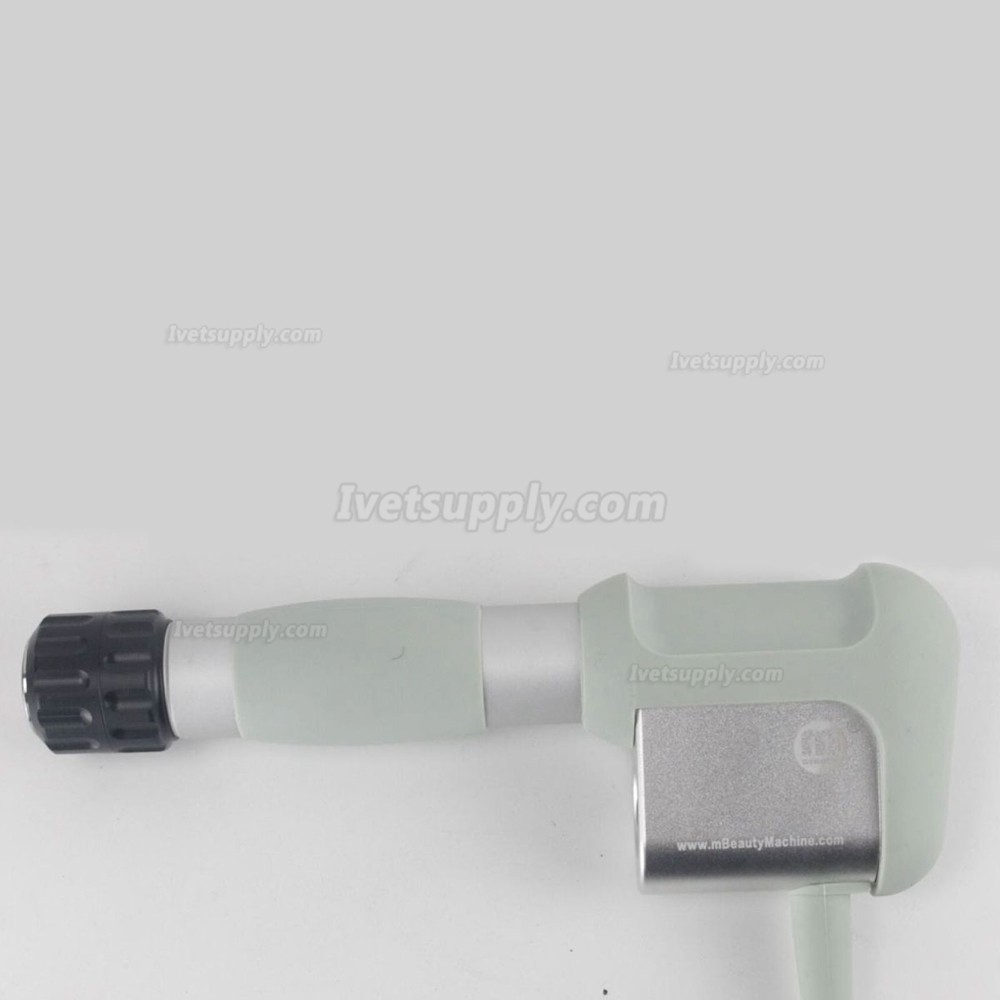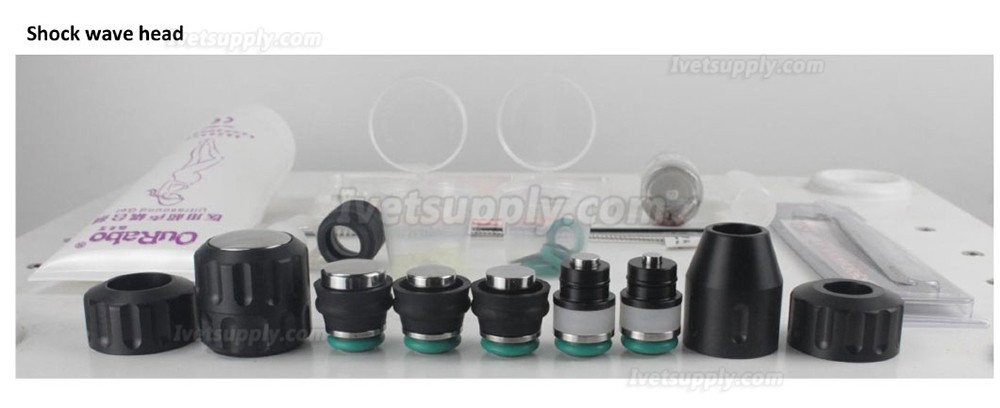 Prev:
Pet Thermostat Carbon Crystal Treatment Tablets
Next:
Veterinary Cold Laser HY30-D For Pain Relief Treatment
Related Products