Veterinary Hospital Stainless Steel Oxygen Chamber Cage Animal Hospitalization Cage - 4 Units
Veterinary Hospital Stainless Steel Oxygen Chamber Cage Animal Hospitalization Cage - 4 Units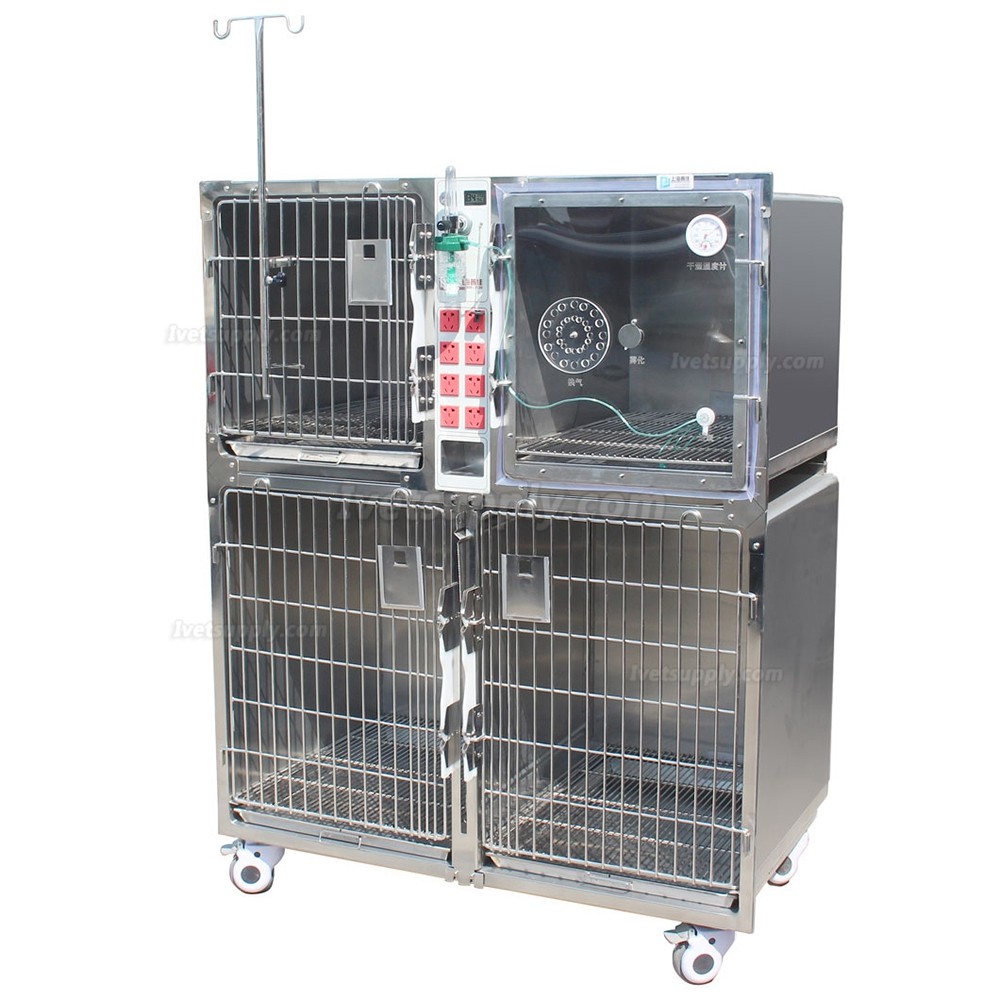 Feature:
1. The cage structure is reasonable, super pressure-bearing, sturdy and durable.
2. The door lock has a unique sliding design, which is automatically locked and has good safety.
3. The pedal mesh and the cage door are high frequency and high current welding, which is firm not desoldered.
4. No dead angle design for Dirt receiving basin, and it is made of full round corners, washing is convenient.
5. Seamless water retaining edge for more convenient and hygienic use
6. The lower cage active plate design, the pumping plate can be changed into a large cage.
7. Move brake wheel at the bottom, quiet, wear-resistant, easy to move and fix.
8. The cage is innovative and exquisite. Feel free to combine and customize on demand.
9. With Inpatient oxygen chamber, 16-bit power connector, Oxygenation hole, Dry and wet temperature display, Leakage Protection
Material:
Fully 304 stainless steel material, anti-corrosion, acid-proof and rust-free, thickness of the cage material is 1.2mm, the cage door is composed of 8mm diameter and 6mm diameter steel wire. The Pedal mesh is composed of steel wire with diameter 10mm and diameter 4mm. The thickness of Dirt receiving basin is 0.8mm.The bottom moving wheel uses a high-strength medical universal brake wheel.
Product Paramenters
| | |
| --- | --- |
| The out size | 1220*700*1570mm(L*D*H) |
| The upper cage | 550*610*700mm (L*H*D) |
| The under cage | 610*820*700mm (L*H*D) |
| Dirt receiving basin | 687*540*45mm (L*W*H) |
| Pedal mesh | 687*545*10mm (L*W*T) |
| The upper cage door | 470*480*8mm (L*H*T) |
| The uder cage door | 530*690*8mm (L*H*T) |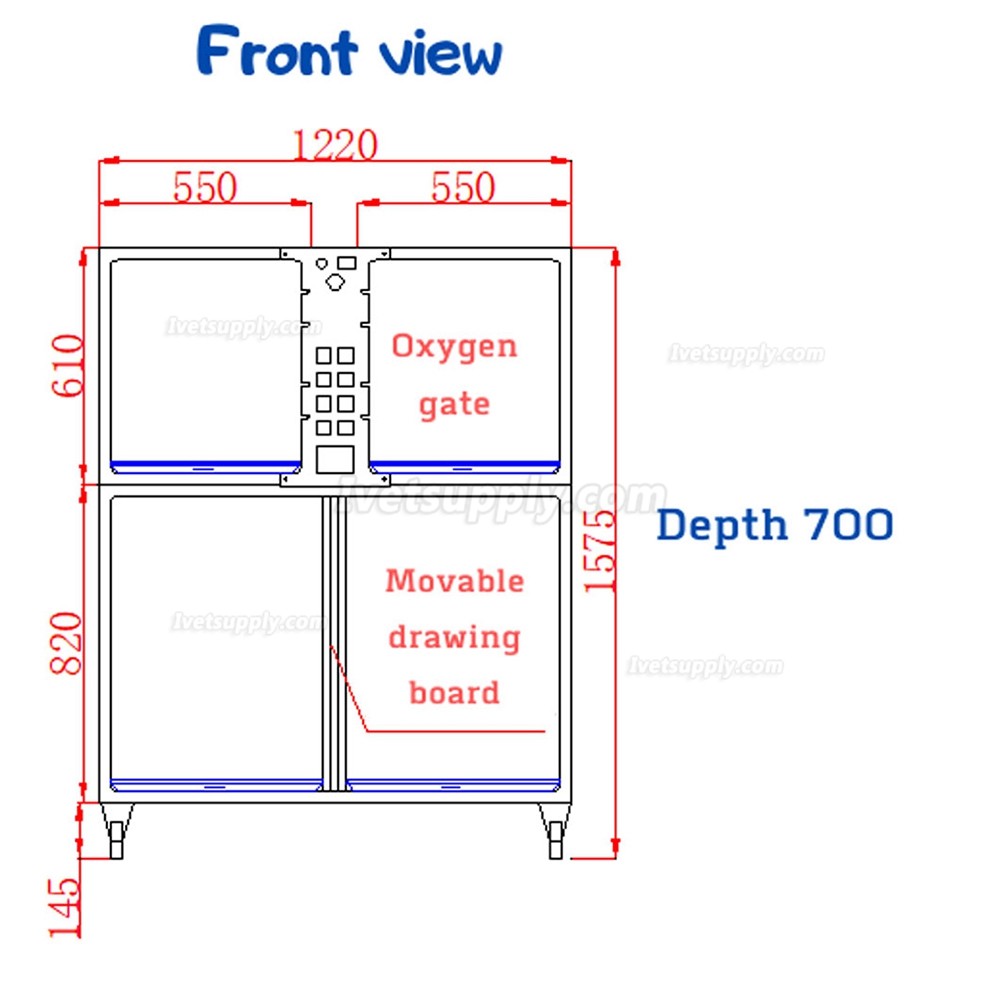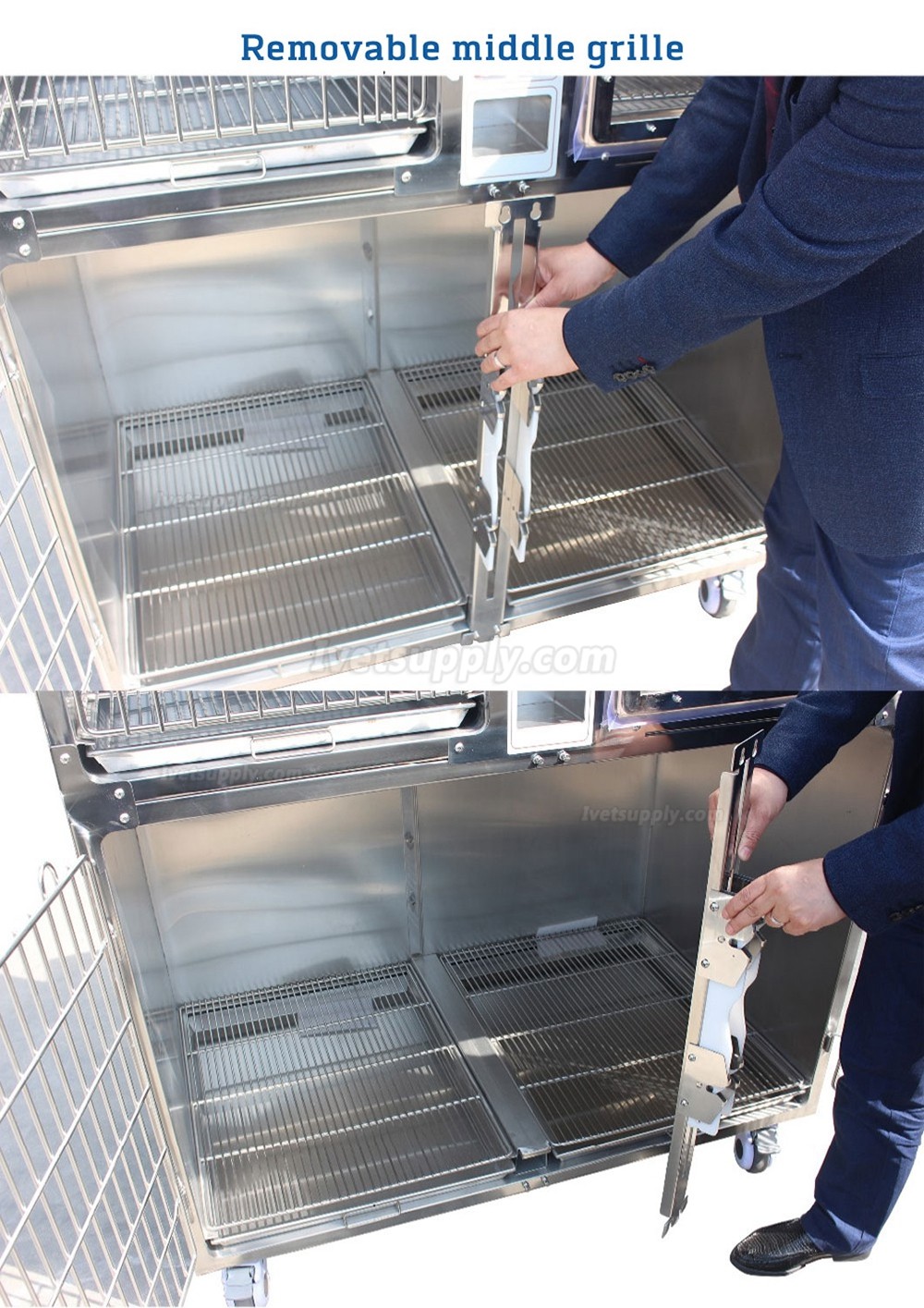 Prev:
Veterinary Stainless Steel Cage Animal Hospital Infusion Cage Veterinary icu Chamber - 4 Units
Next:
Vet Pet Cages Stainless Steel Animal Pet Cages C-07 with Inpatient Oxygen Cage + Warm Light
Related Products