Veterinary Elevators Cat Dog Teeth Extraction Stainless Steel Minimally Invasive Elevators
Veterinary Elevators Cat Dog Teeth Extraction Stainless Steel Minimally Invasive Elevators
Elevators are used to stretch and sever the periodontal ligaments which holds the tooth in the socket. Our winged elevators with increased surface area help to sever the periodontal ligament easily.
Winged elevators are designed for small animal dental work; short wing blades which are curve upward improves control and following tooth conformation. Narrow neck improves visibility and short shaft for better control.
1-6mm winged elevators with stubby handle ( shorter length and larger diameter) provides more control and comfort and makes extraction easier and safer as the user's finger can be placed at the instrument tip. Stubby handles are ideal for small or large hands.
How to use Winged Elevators:
Pick the appropriate size winged elevator for the curvature of the of the tooth root.
Gently slide between the root and the bone to get into the periodontal ligament space.
Push in as you go toward the tip of the root. Be careful the elevators do not slip of the surface.
Pushing in and rotational movement can drive elevators between root and bone once you get between root and bone you can apply a very slow and steady twist; hold to stretch and fatigue those periodontal ligaments. Hold can be more than 40 seconds.
After a good amount of twist and hold, push further forward toward the apex of the tooth. Oscillate as you push further to cut periodontal fibres with the blade.
Repeat the same procedure to the opposite surface the tooth.
Technical Specifications:
Material Handle: Non-Magnet Stainless Steel
Material Tip: Medical Stainless Steel
Rusting Prevention Procedure: Passivated
Ultrasonic Cleaned: Yes
Reusable or Disposable: Reusable
Sterile or Non-Sterile: Non-Sterile
Latex-Free: Yes
Handle Polish: Matt-Polished
Tip-Polish: Mirror-Polished
Sand-Blasted: No (but possible)
Usage: Left Hand or Right Hand
Tests Performed: Boil Test, Performance Test, Shape Test
Packing: Individually Packed
QC Passed: Yes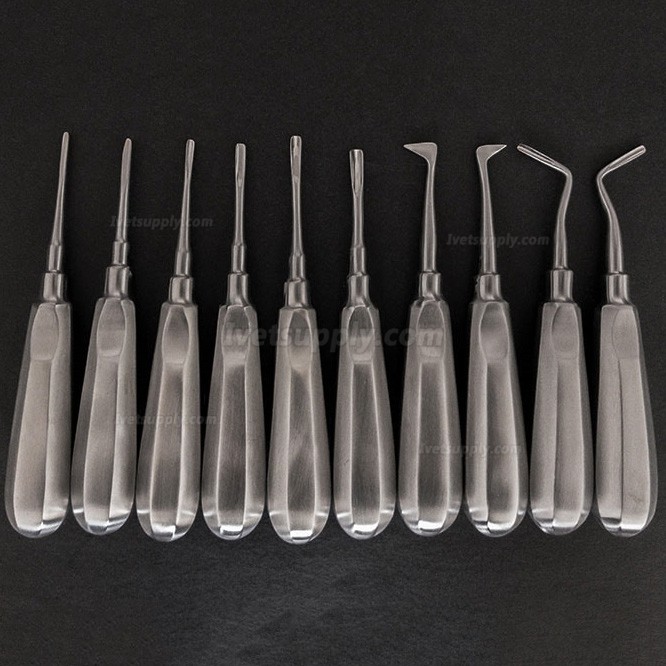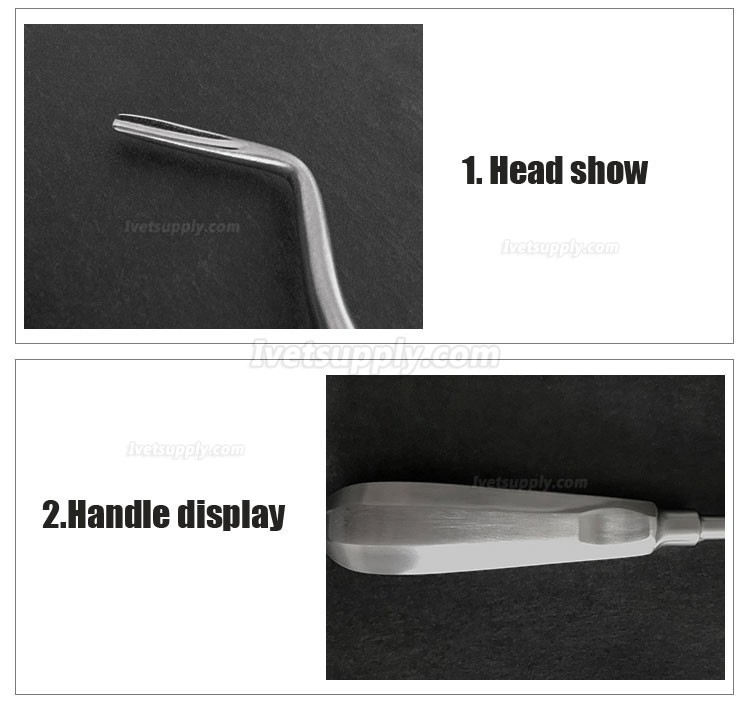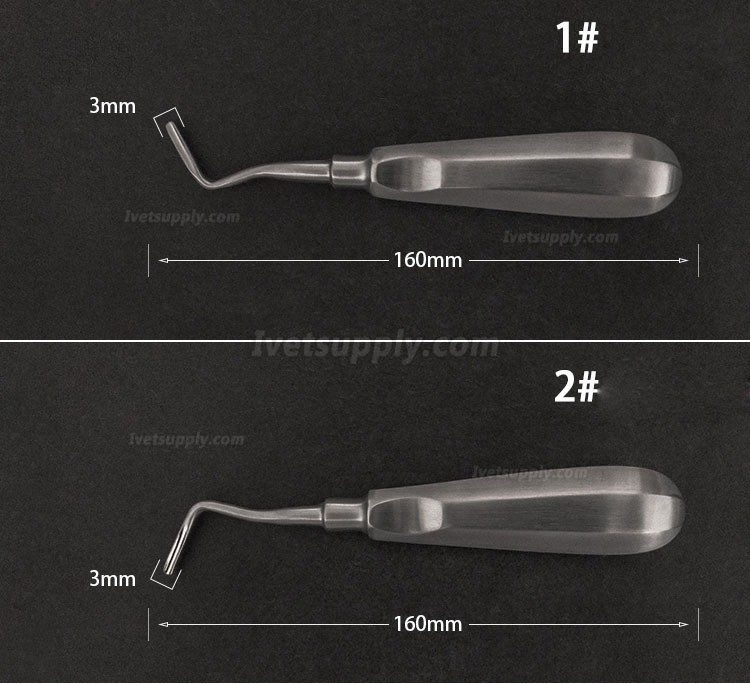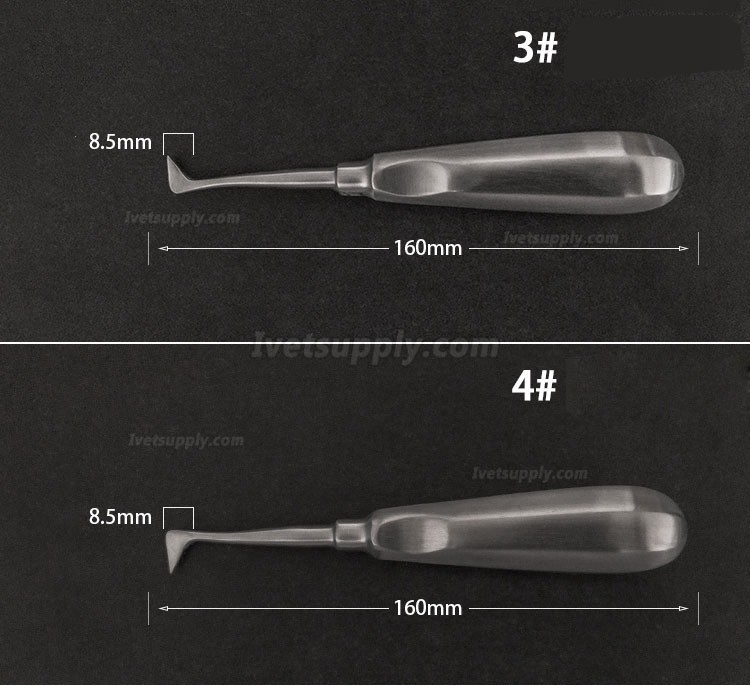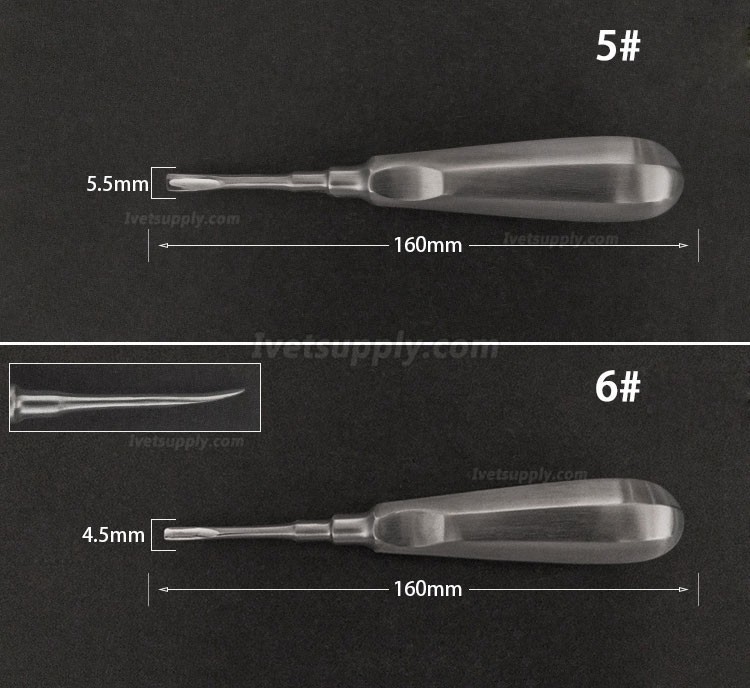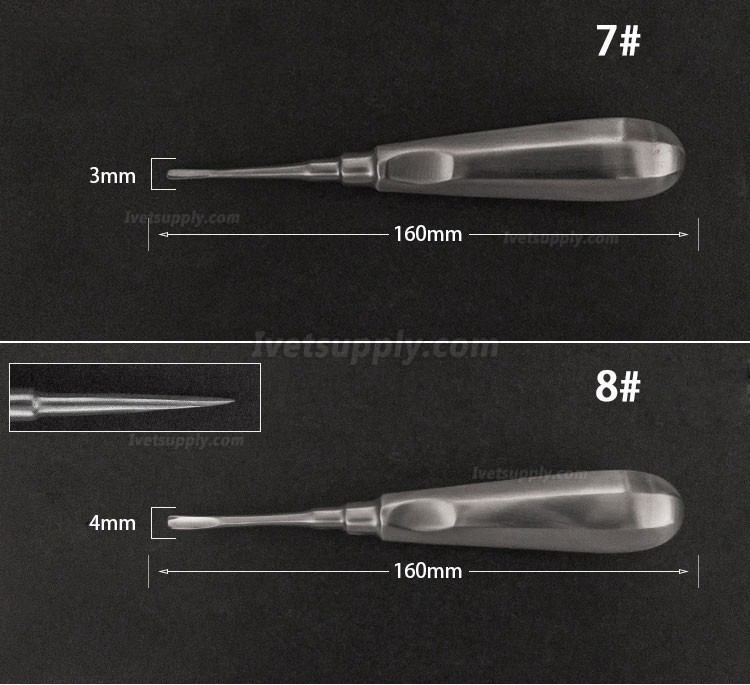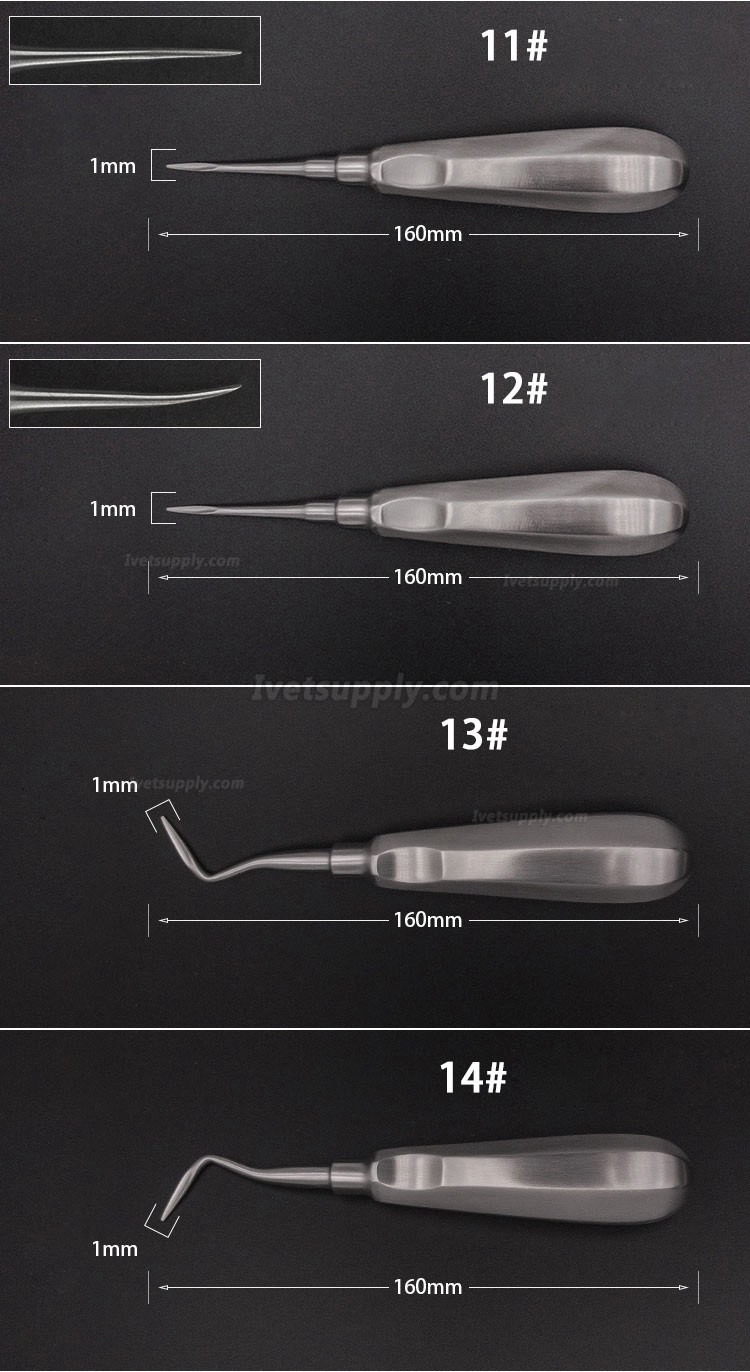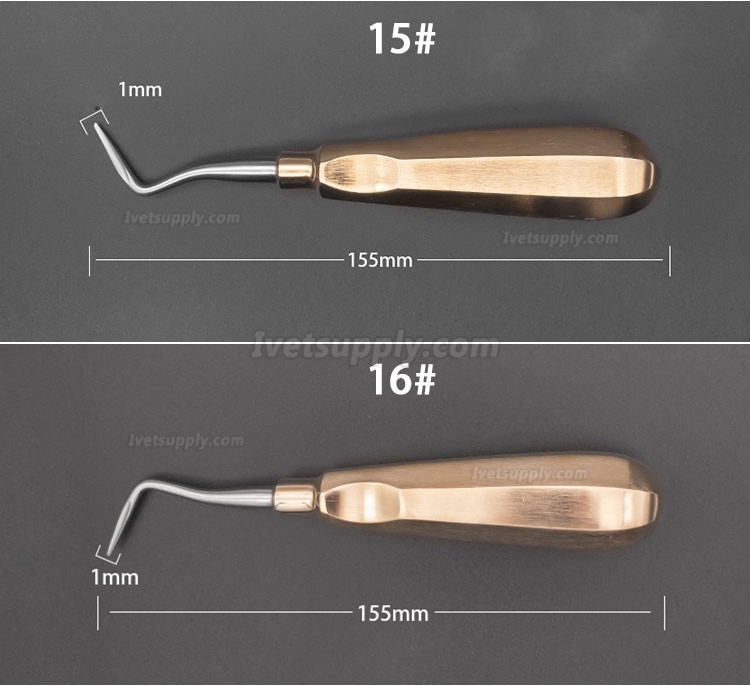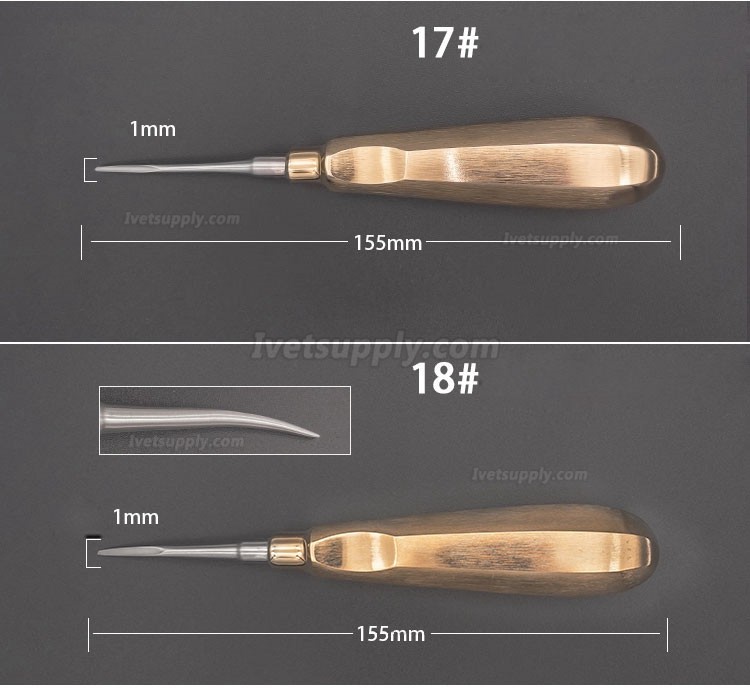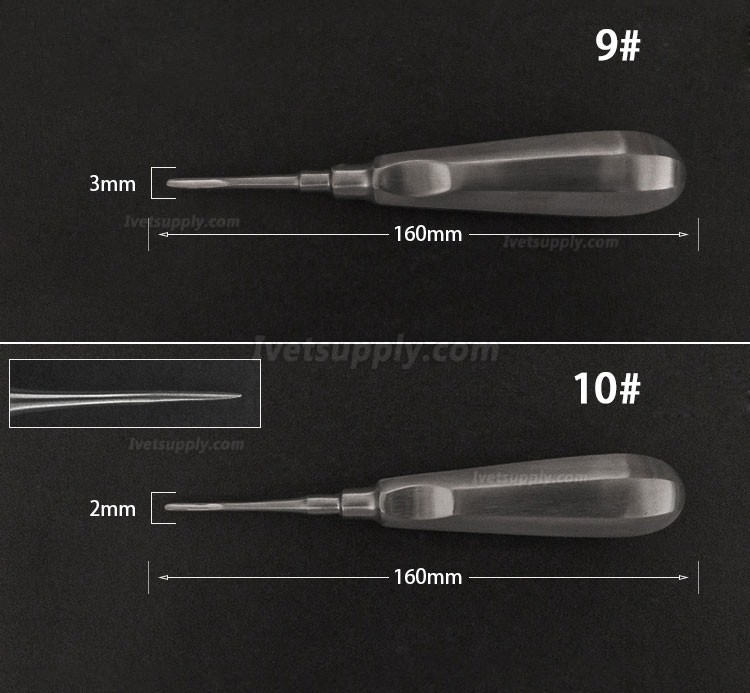 Prev:
8 Pcs/set Pet Teeth Cleaning Tools Dogs Cats Tartar Stones Remover Dental Scraper Animal Tooth Care Tool Set
Next:
Veterinary Small Dental Extraction Kit Animals Feline & Canine Dentistry Apical Elevator
Related Products