Vet Portable Handheld Digital Artificial Insemination Gun with Endoscope
Vet Portable Handheld Digital Artificial Insemination Gun with Endoscope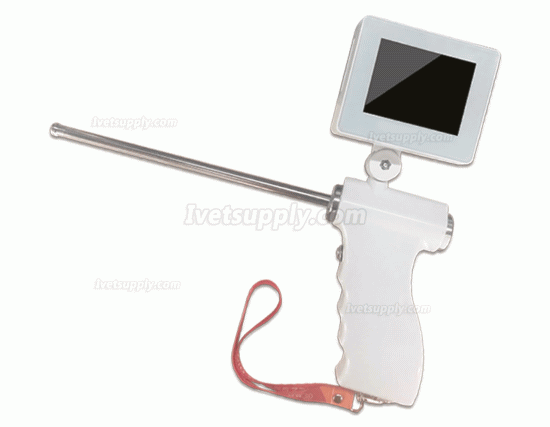 Display
High-Definition LED display to monitor the insemination process.

The connection hinge between the gun and screen
The screen can be swung 120° back and forth and rotated 360° left and right (Do not rotate in one direction more than 270°), which can provide a more comfortable posture for the operator to complete the insemination. The process is convenient for many people to observe and learn the process of insemination.

Probe
The probe is made of medical stainless steel. It is waterproof, anti-corrosion,anti-rust, and the SD slot can rotate 120° up and down, and rotate the display screen 360° left and right.

HD micro focus camera
The ultra-clear cold light source camera can take pictures and videos. The front of the camera is equipped with a detachable expansion head, which is convenient for cleaning and disinfecting the camera and observing the surrounding conditions of the uterine orifice.

Probe blowing function
Built-in electric air pump, switch to control the air pump, the blowing port blows directly on the camera, and quickly blows away the mucus on the camera.

Insemination needle channel
Place the vas deferens with the positioning steel needle, locate the cervix through the insemination channel, and perform deep insemination.

Metal insemination needle
The arc design of the metal insemination needle can easily slide into the cervix gap and into the uterus.

Power supply
Fast charge, long battery life lithium battery, replaceable.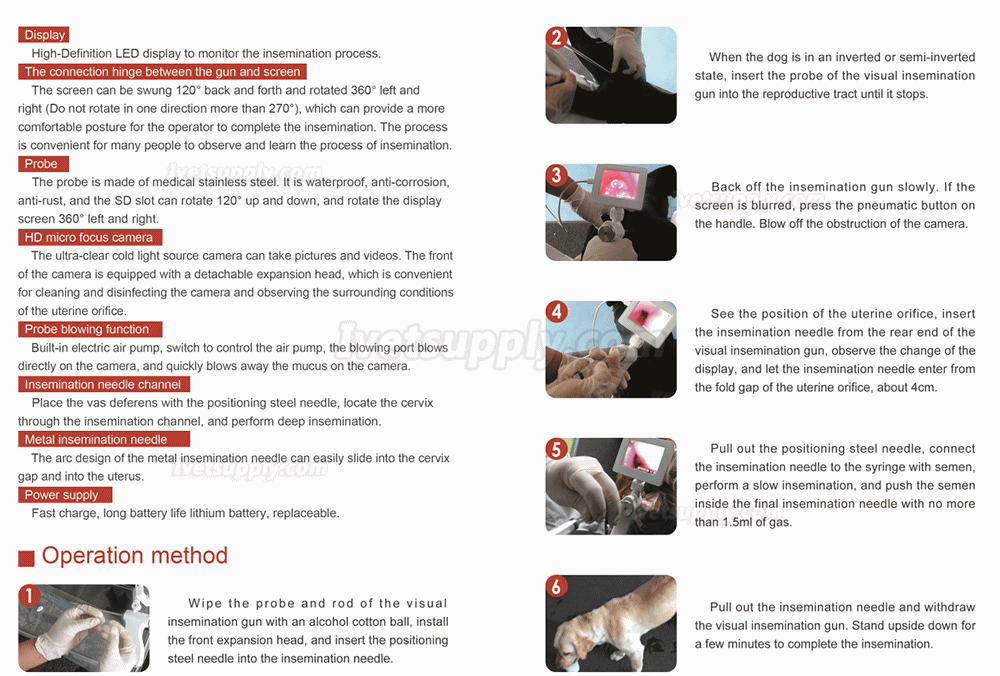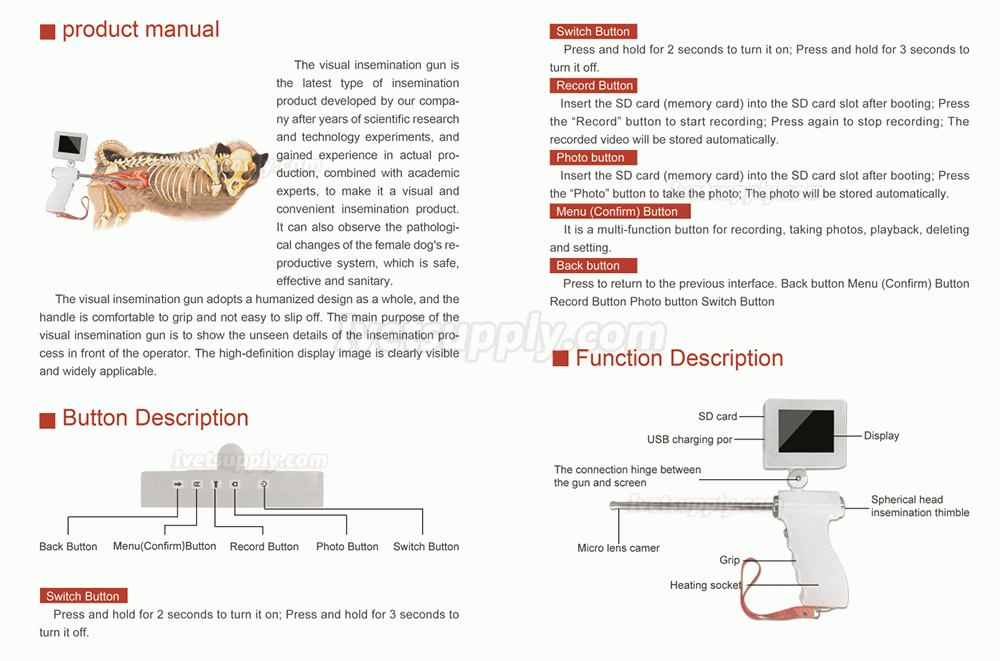 Product Paramenters
| | | |
| --- | --- | --- |
| parameter name | unit | Parameter value |
| Total length | mm | 340 |
| Handle width | mm | 80 |
| Endoscope rod | mm | 250 |
| Probe diameter | mm | 10 |
| Air channel | mm | 1 |
| Insemination channel | mm | 3 |
| Camera diameter | mm | 3.9 |
| Diameter of expansion head | mm | 12 |
| Length of expansion head | mm | 7 |
| Steel needle | mm | 36 |
Charing Adapter Parameters

Input

100-240V AC 50/60HZ 0.15A

Output

5V DC 1000mA

Uses

Artificial insemination technology applied to
Performance

Artificial insemination technology applied to

up to 256G memory card

Function

Photo, Video, Output Print

Output

USB interface

Charging

Built in battery, USB charging

Continuous Working Time

2h

Dilatation Head Diameter

23mm

Expansion Head Length

15mm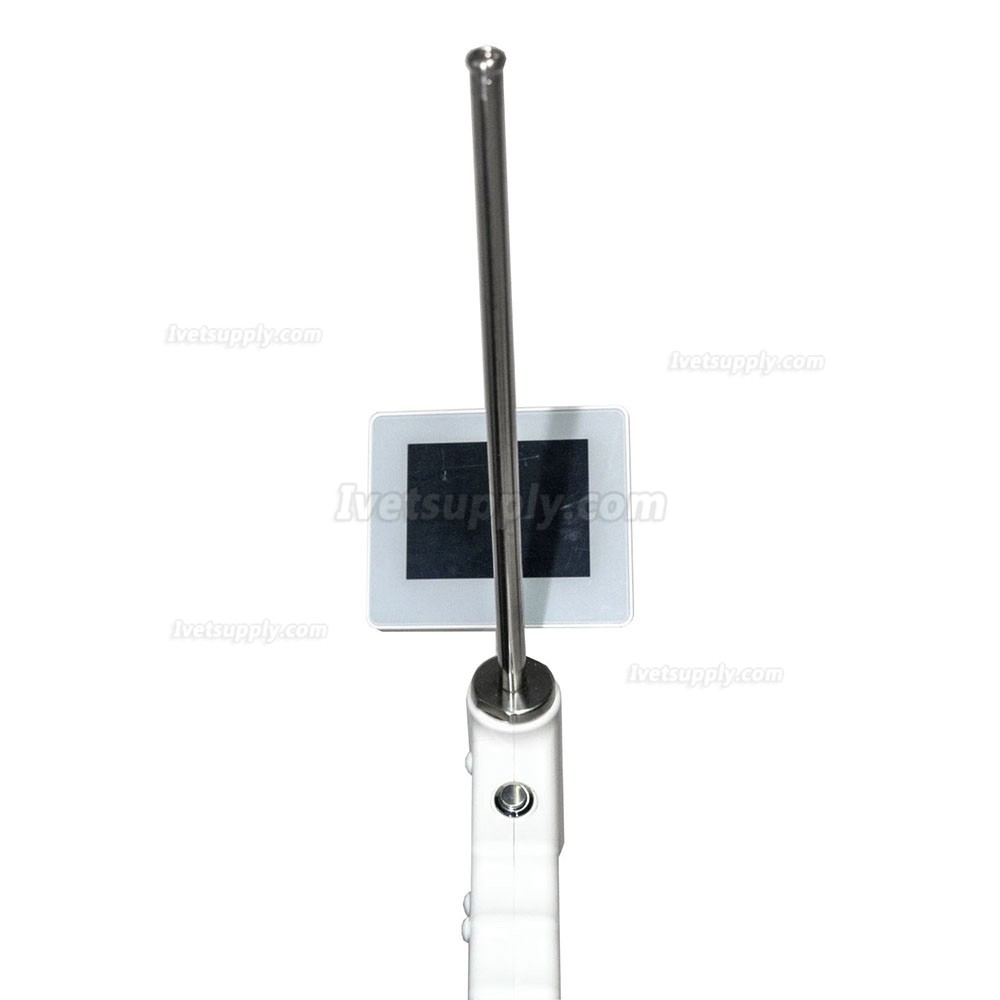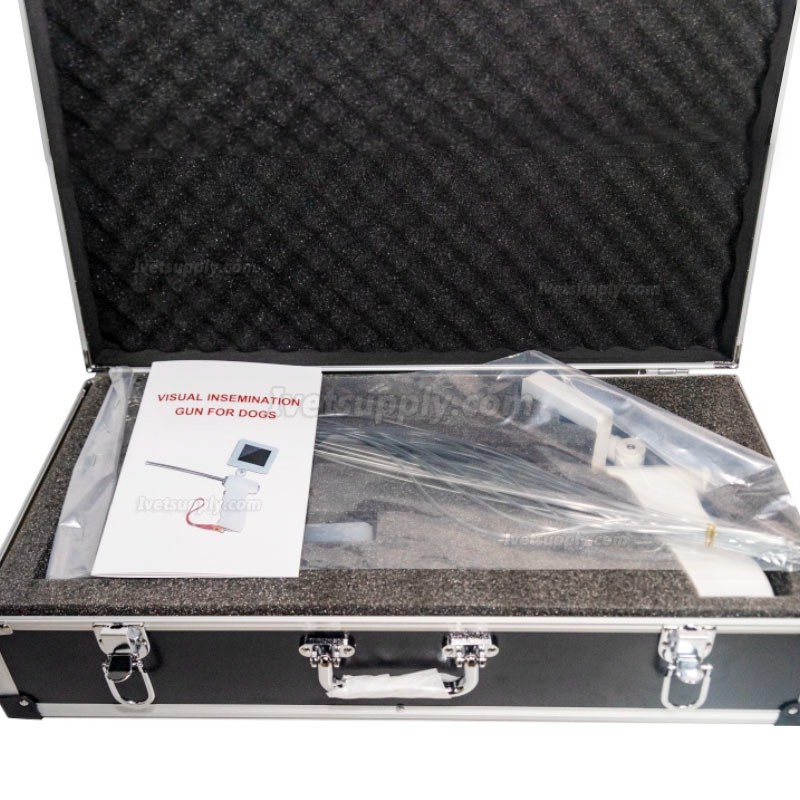 Prev:
Veterinary Examination Table Pet Treatment Table WT-23 With Weighing Scale (Stainless Steel Material)
Next:
Animal Stretcher Vet Stainless Steel Stretcher WT--33 Stainless Steel Acrylic Surface Pet Stretcher For Small Animal
Related Products