CONTEC CMS5000VET Vet Patient Monitor Vital Signs NIBP Pulse Rate SPO2 color LCD For Animal/ Cat / Dog
Brand: CONTEC
Availability:

In Stock
CONTEC CMS5000VET Vet Patient Monitor Vital Signs NIBP Pulse Rate SPO2 color LCD For Animal/ Cat / Dog
Introduction
CMS5000VET Veterinary Monitor adopts Oscillometry technology, also called Oscillography technology for NIBP measuring, and adopts Photoelectric Oxyhemoglobin Inspection Technology combining Capacity Pulse Scanning & Recording Technology for SpO2 measuring. Systolic Pressure (SYS), Diastolic Pressure (DIA), Mean Pressure (MAP), SpO2 and Pulse rate (PR) can be accurately measured.
Compact appearance, comprehensive functions, simple and convenient operation, which is applicable for animal hospitals and family.
Features
◆Be applicable for NIBP and SpO2 monitoring of cat, dog and other animals, easy operation and high cost performance.
◆Built-in rechargeable lithium polymer battery for uninterrupted monitoring.
◆Compact and flexible appearance, simple operation, easy for carrying.
◆With user-friendly interface.
◆Display with 2.4'' (320×240) color TFT LCD and blue highlight LED.
◆Visual and audible alarm for Systolic Pressure(SYS), Diastolic Pressure(DIA), Mean Pressure(MAP), SpO2 and Pulse rate(PR), and upper and lower limit of alarm can be set.
◆Unique Flash memory, storage for up to 2000 NIBP data or SpO2 data within 48-hour.
◆Convenient and quick in inquiring measurement data.
Performance
NIBP monitoring
◆Measurement method: Oscillometry
◆Measurement mode: manual/auto.
◆Auto measurement interval: adjustable from 1 to 255 minutes.
◆Resolution: 1mmHg.
◆Accuracy: Maximum Mean deviation±5mmHg, Maximum Standard deviation≤8mmHg.
◆Self-check function.
◆Overpressure protection: double protection for software and hardware.
◆Measurement range: 10mmHg~270mmHg.
SpO2 monitoring
◆Continuous real-time measuring.
◆Adopt digital SpO2 technology, which has strong anti-interference capability.
◆Real-time display SpO2, pulse rate, SpO2 Plethysmogram, bar graph, SpO2 and Pulse rate (PR) trend graph.
◆Trend graph with the function of adaptive scaling
1.SpO2 Measuring
Range: 0%~100% (Resolution: 1%)
Accuracy: ±2% in stage of 70%~100%, and unspecified in stage of less than 70%.
2.Pulse Rate Measuring
Range: 30bpm~250bpm(Resolution: 1bpm)
Accuracy: ±2bpm or ±2%, whichever is greater.
3.Measurement Performance in Weak Filling Condition: SpO2 and pulse rate can be shown correctly when pulse-filling ratio is 0.4%, SpO2 error is ±4%; the Pulse rate error is ±2bpm or ±2%, whichever is greater.
4.Resistance to surrounding light: The deviation between the value measured in the condition of man-made light or indoor natural light and that of darkroom is less than ±1%.
Physical characteristic
Dimension: 232 mm(L)×198 mm(W)×75 mm(H)
Weight: 1.15kg
Operational environment
Temperature: 5 ℃~40 ℃
Relative humidity: 30%~75%
Atmospheric pressure: 700hPa~1060hPa
Specific EMC, climate, mechanical environment: Do not use a mobile phone in the vicinity of the veterinary monitor for the strong radiation field produced by mobile phone would interfere with the normal function of the veterinary monitor use.
Package:
Power cord
Digital DB7 animal tongue clip SpO2 probe/sensor
Integrated digital SpO2 probe extension cable
Neonatal capsule single tube repeatable cuff(6-11cm arm circumference)
NIBP extension tube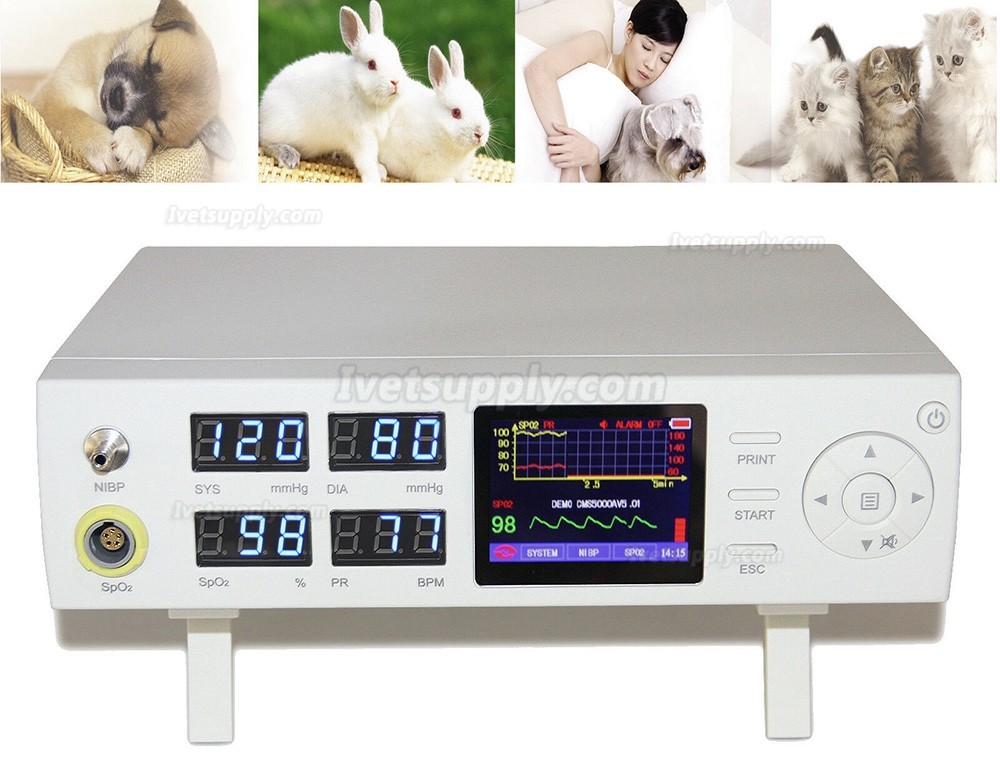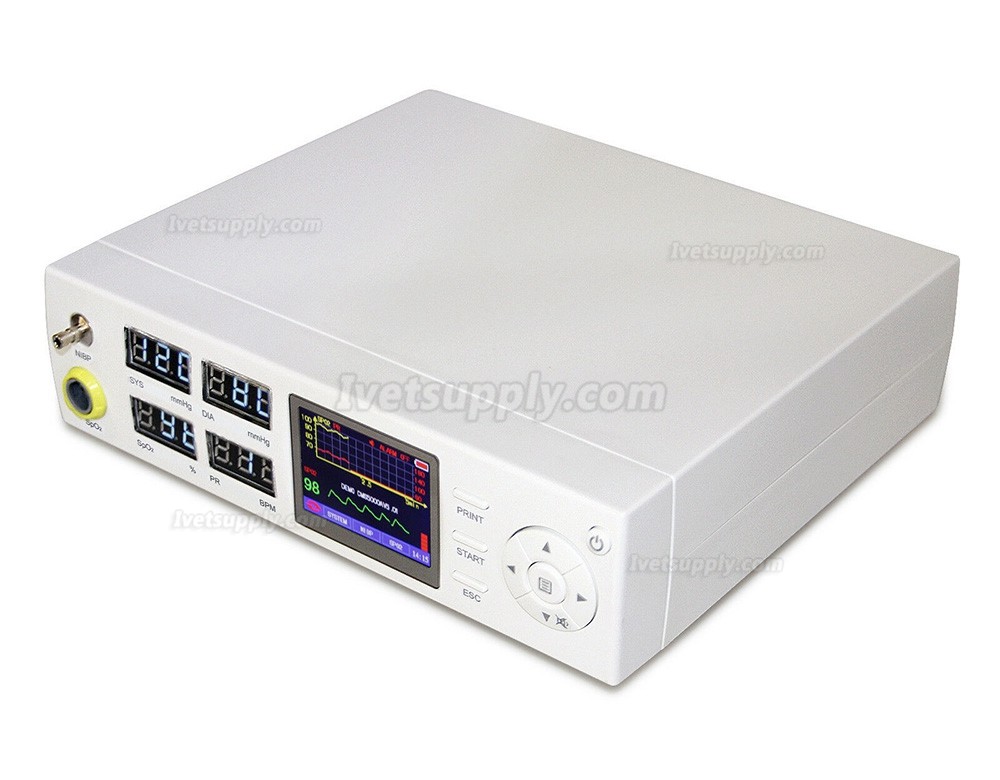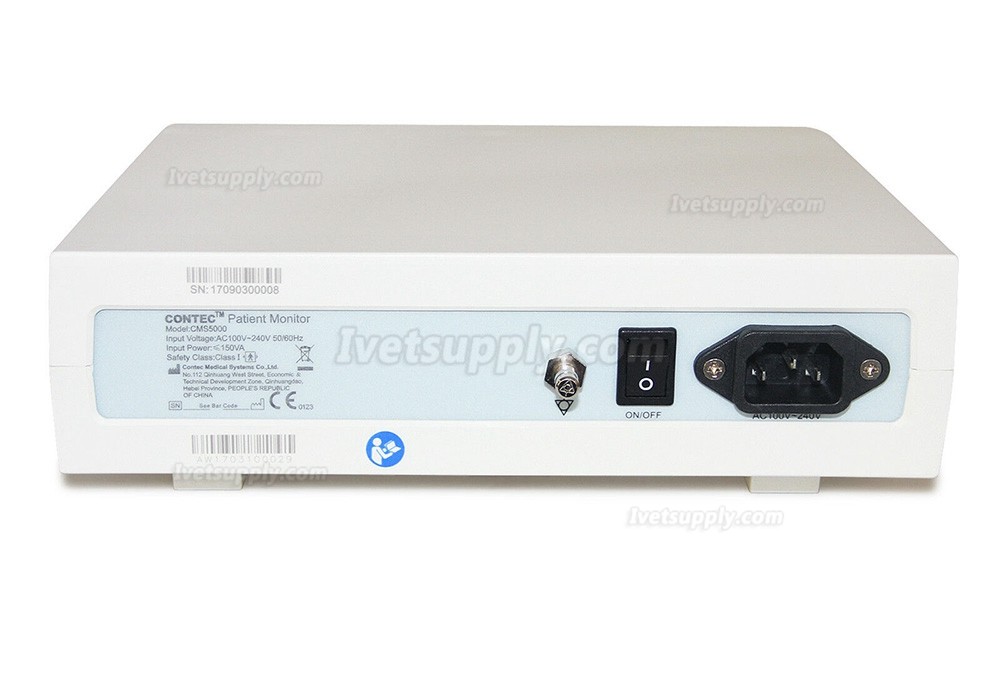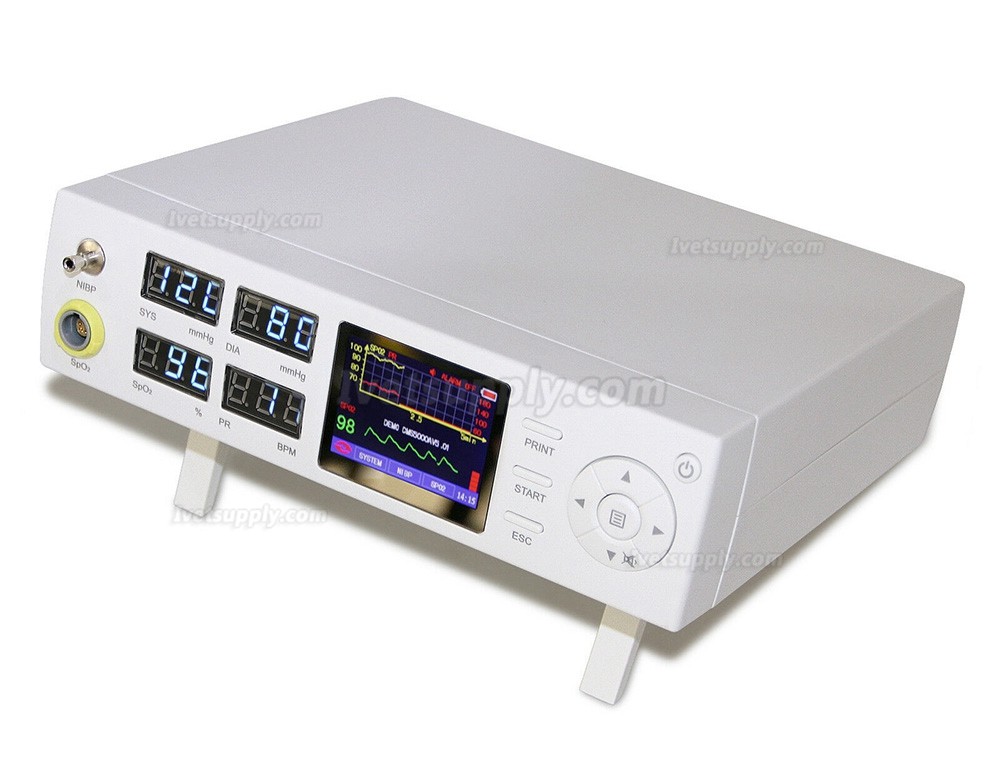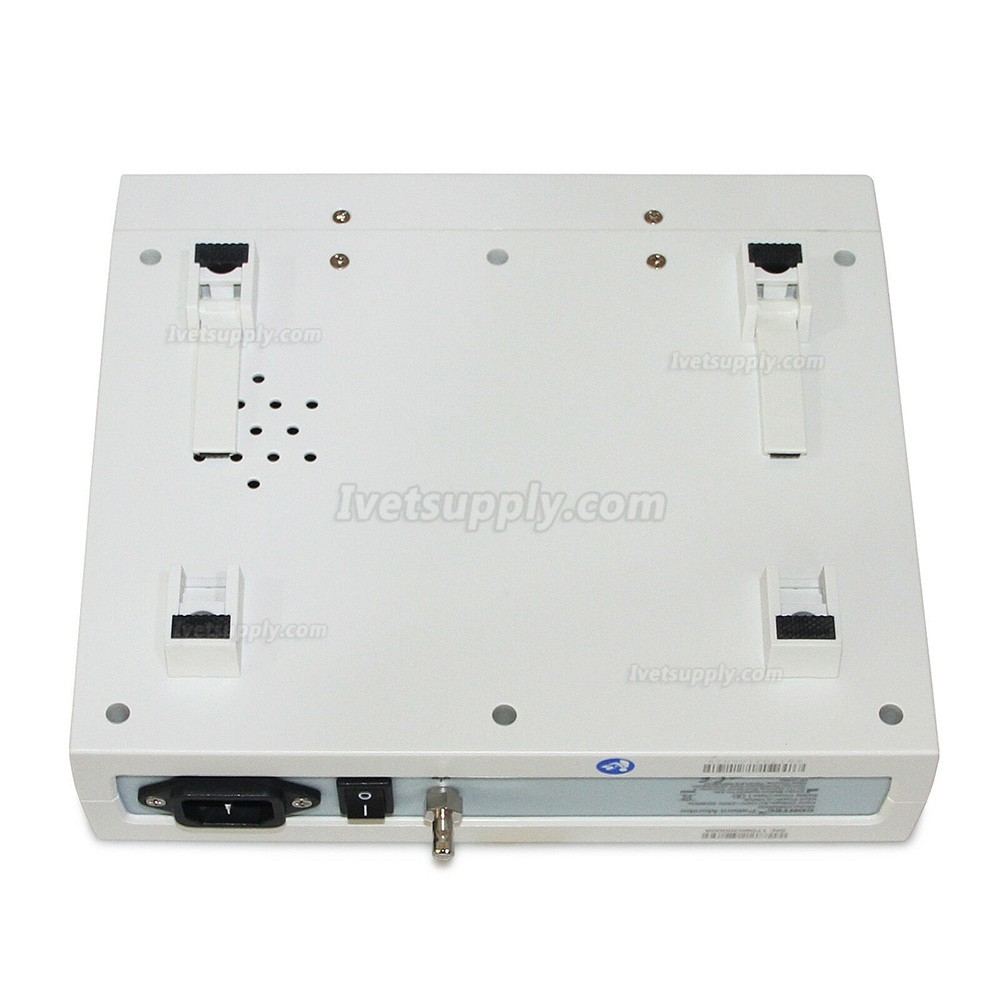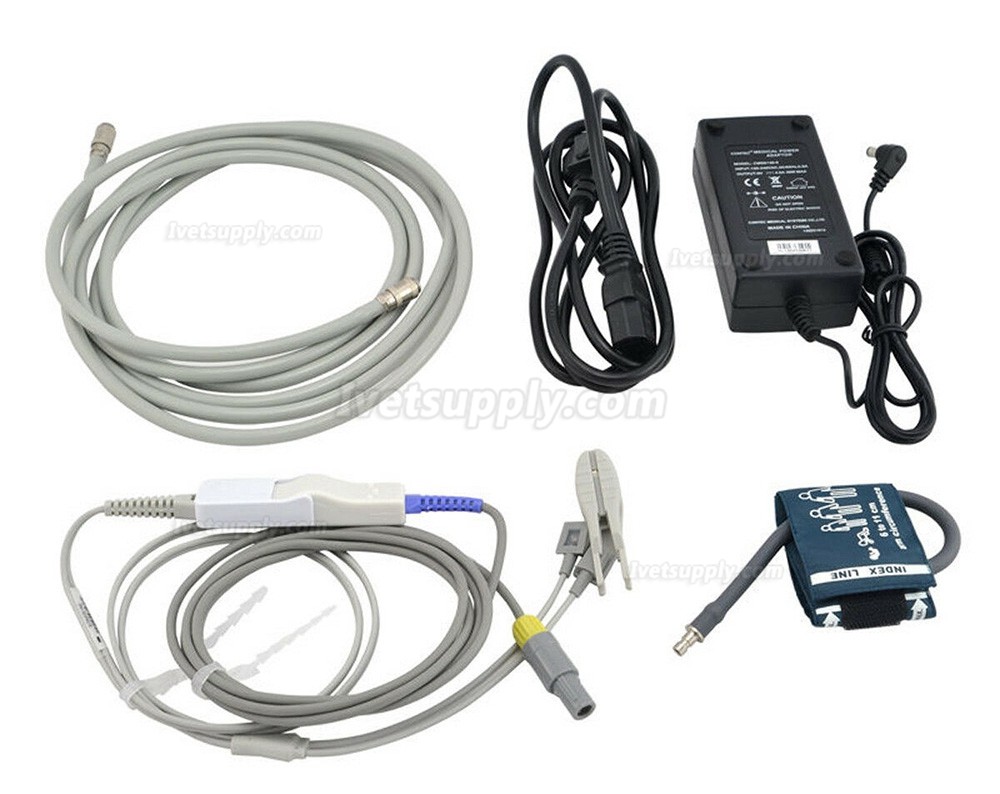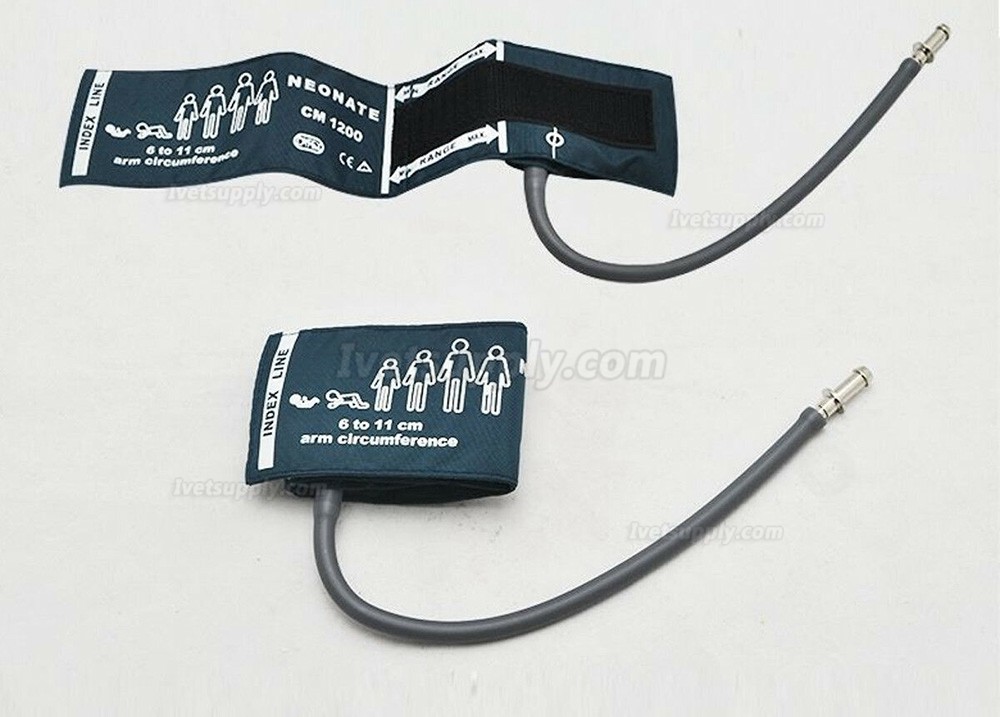 Prev:
CONTEC CMS5100 Veterinary Patient Monitor Vital Signs Portable machine NIBP SPO2 Pulse Rate LCD
Next:
Veterinary Handheld Bluetooth Pet Animal SpO2 Pulse Oximeter Monitoring
Related Products