Vet Multiparameter Veterinary Monitor Veterinary Use Digital Blood Pressure Monitor
Vet Multiparameter Veterinary Monitor Veterinary Use Digital Blood Pressure Monitor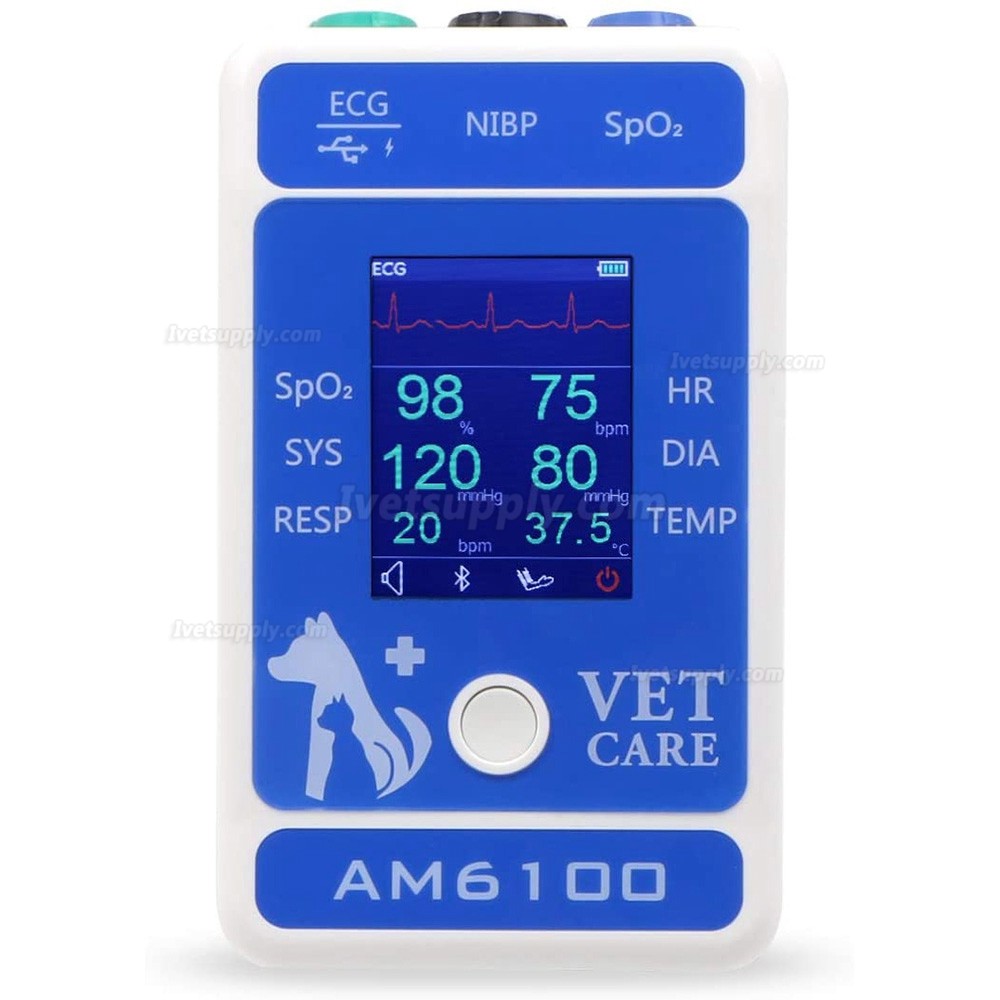 Features:
1. Color TFT liquid crystal display can clearly display patient parameters and waveforms
2. Provide fast and accurate measurement. Can work continuously for 12 hours.
3. It can be connected to various types of sensors, suitable for animals of various body types, and supports monitoring of multiple parts.
4. Reliable and diverse multi-parameter monitoring, including ECG, respiration, blood oxygen, blood pressure, and body temperature.
5. Single button design, convenient and simple operation.
6. This product supports Bluetooth connection for USB, serial port, and Bluetooth communication. It can be connected with other smart terminals, such as PC, PAD, Apple and Android phones.
7. Suitable for a variety of small animals, it is a good multi-parameter monitor for small animals and pets
Product Paramenters
| | |
| --- | --- |
| Product Name | Veterinary Monitor |
| Model | WTP6100VET |
| Display | Android PAD/ 4 inch color TFT LCD |
| ECG | Waveform: Lead I |
| Band wdth | 0.05Hz- 100Hz(3dB) |
| Diagnose mode | 1-40Hz |
| Montor mode | 0.1-25Hz |
| Temp | Type:vascular/surface temperature Scope:20℃-50℃ Accuracy:±0.2℃ |
| Infrared Temp | None |
| NIBP | Systolic blood pressure: 60-250mmHg |
| Diastolic pressure | 30-180mmHg Detection accuracy. |
| Statc pressure | ±3mmHg acton scope 35%-100% |
| Accuracy | ±2% 80%-100% ±3% 70%-79% |
| Scope | 25bpm to 300bpm |
| Accuracy | ±2bpm |
| CO2 | None |
| Size | 145mm*85mm*37mm |
| Weight | 240g |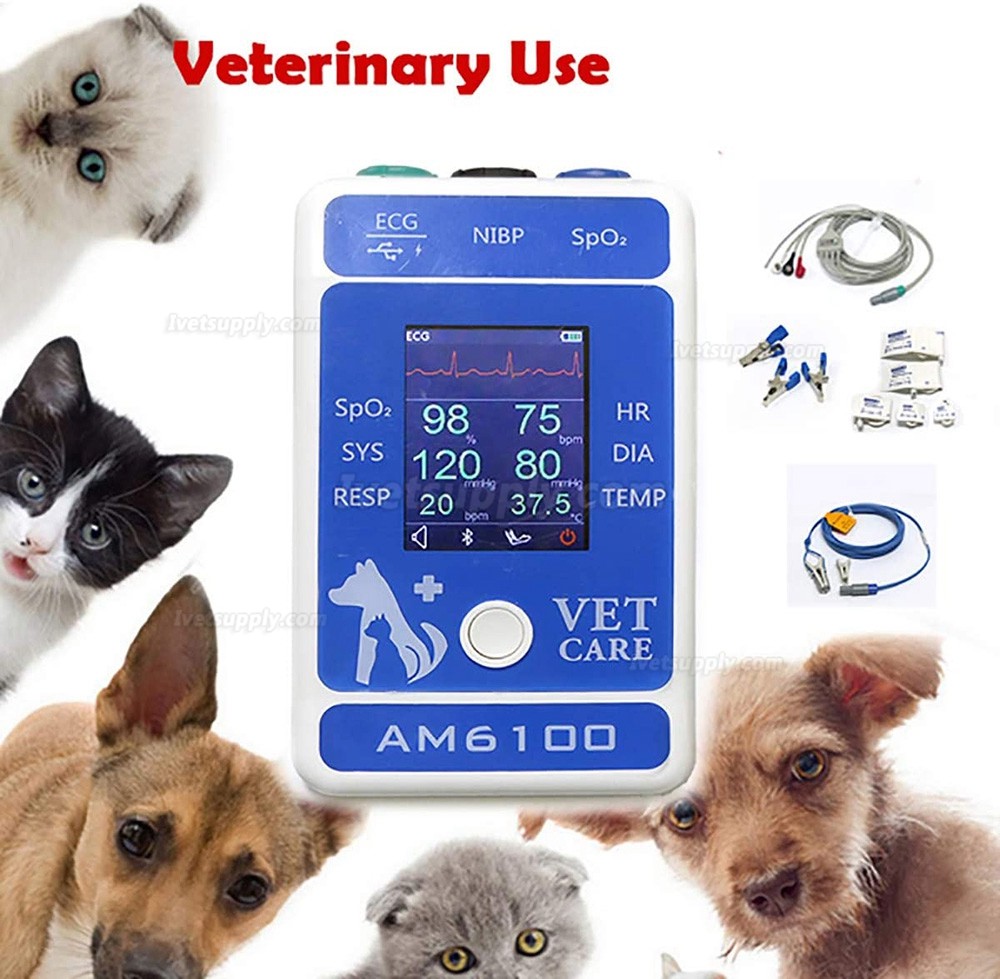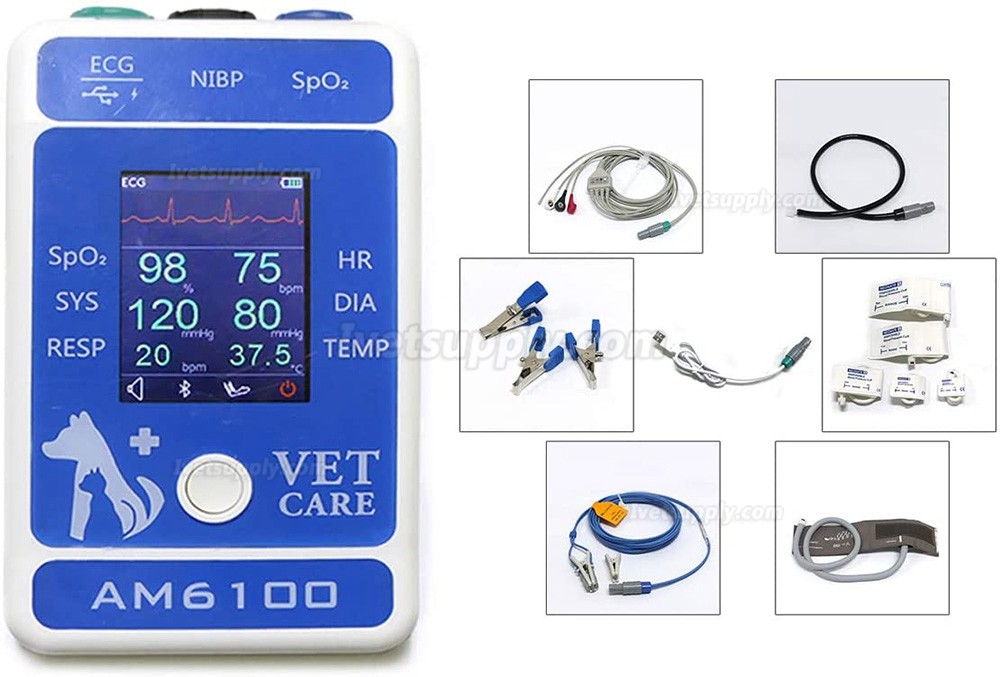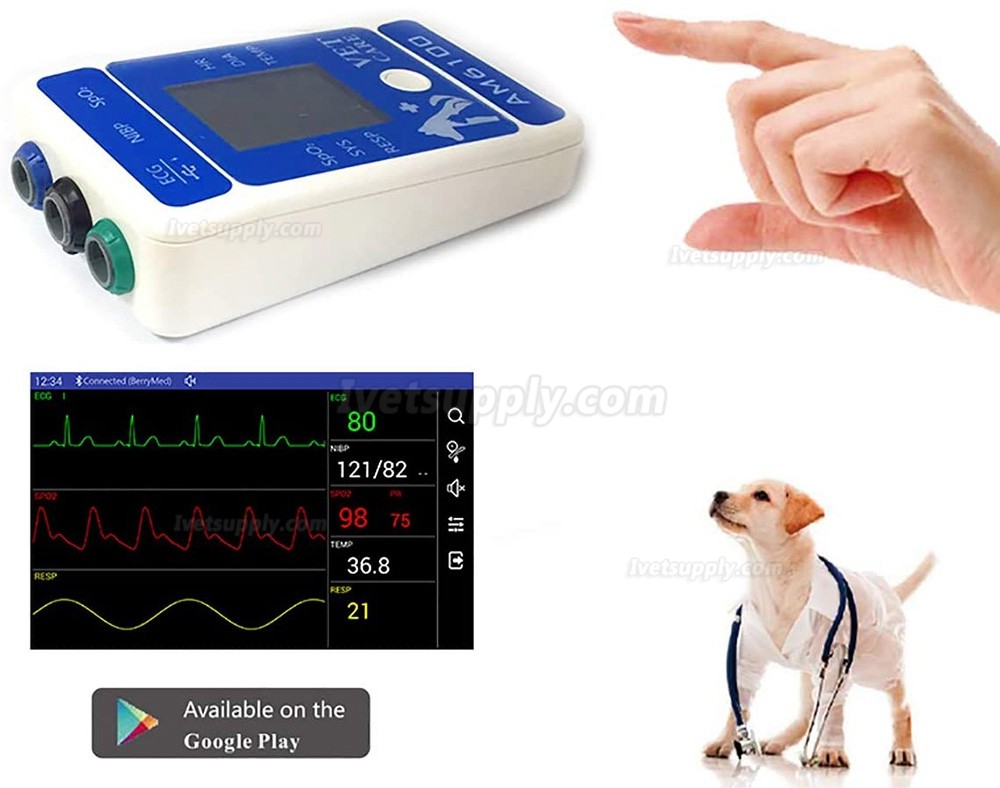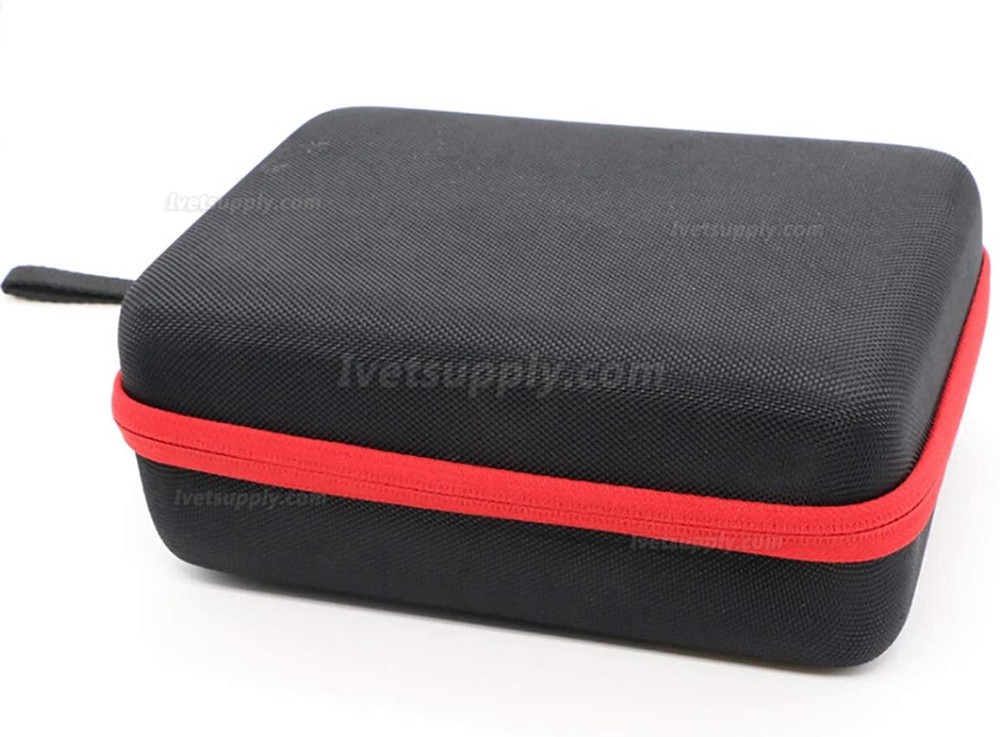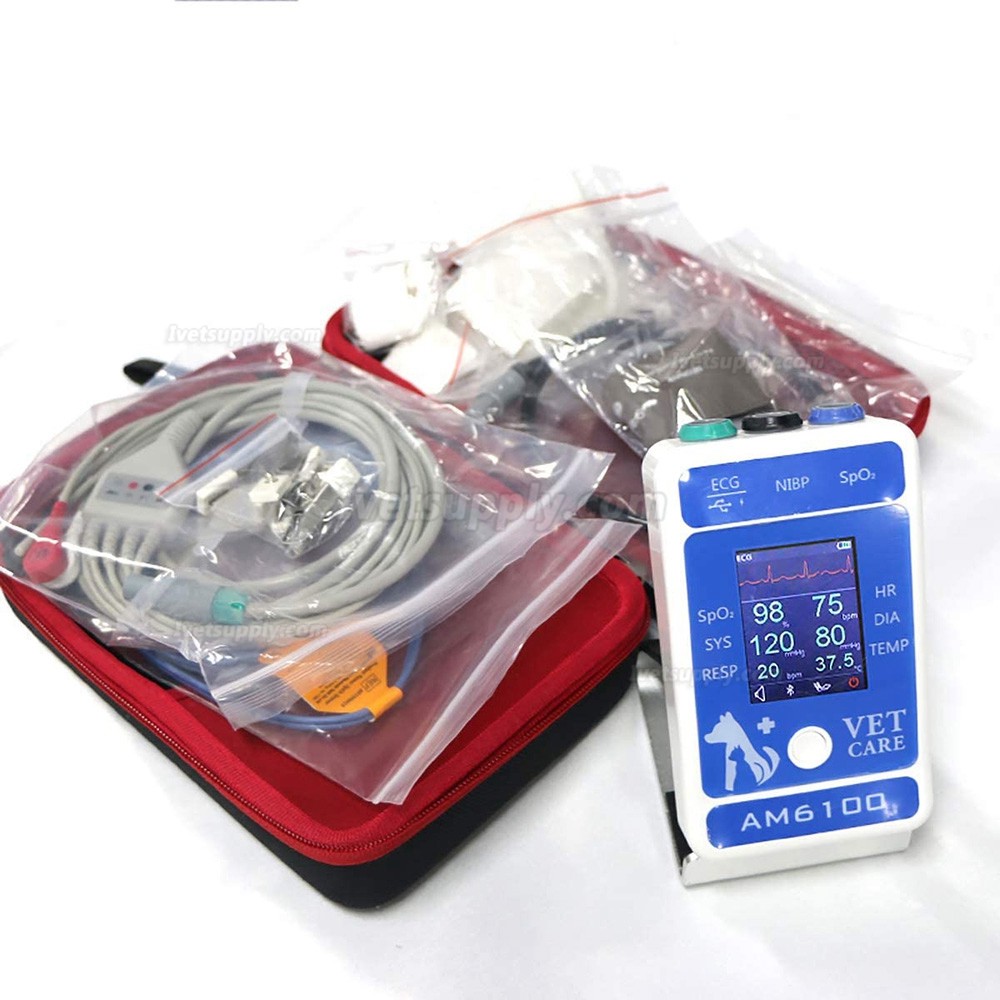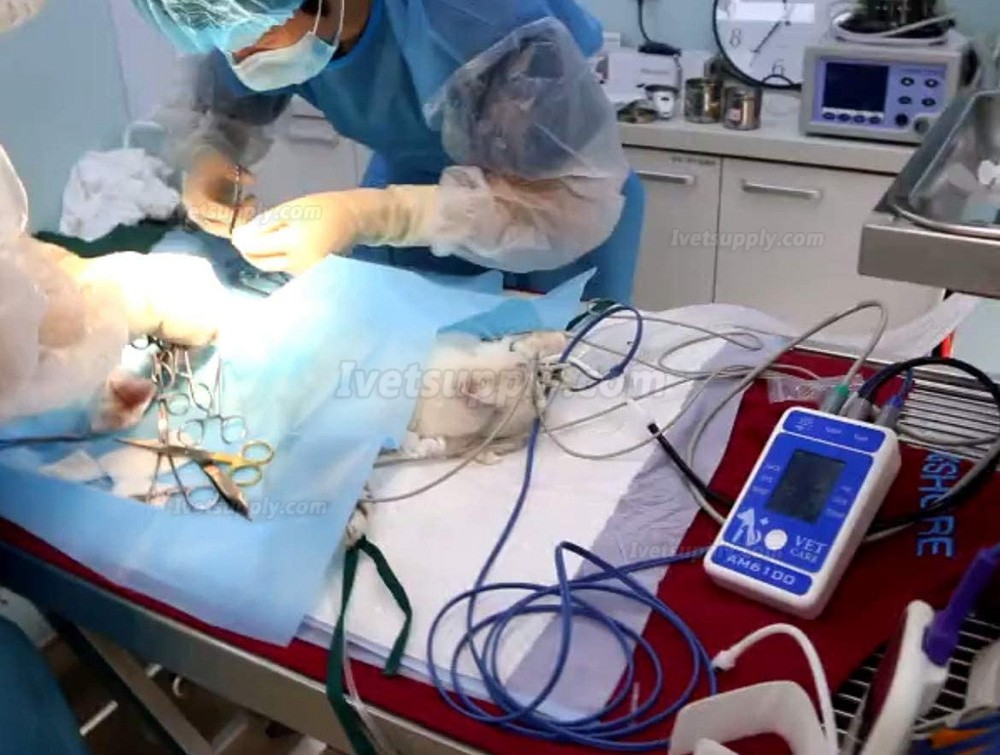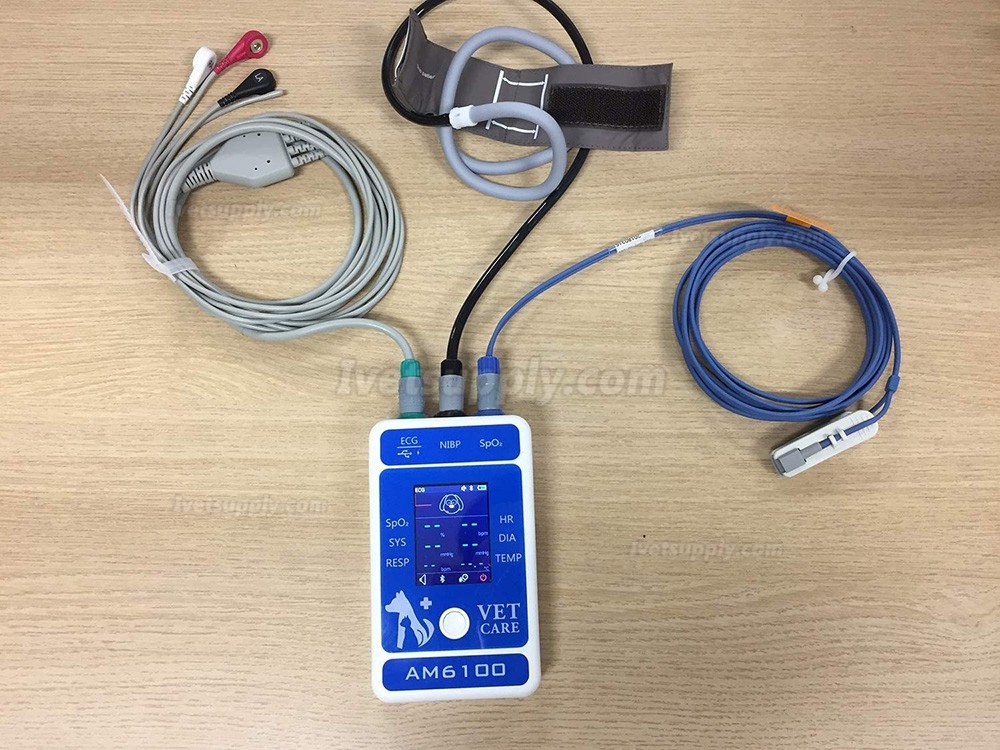 Prev:
Veterinary ECG300V 3-channel 12 lead Electrocardiograph ECG /EKG Machine
Next:
Veterinary Portable Patient Monitor Vet Vital Signs Monitor for Cats And Dogs
Related Products