Dolphinmed Veterinary Anesthesia Machine Used for Large Animal 1000kg Horse Cow Tiger Pig Vet Anesthesia Machine
Dolphinmed Veterinary Anesthesia Machine Used for Large Animal 1000kg Horse Cow Tiger Pig Vet Anesthesia Machine
This veterinary anesthesia machine is designed for use with Equine, Bovine, Zoology, and other large animal anesthesia.
Feature
It can be used in farm, zoo, forest park, animal research center and so on.
Specification
Inspiration mode: open mode, closed mode, semi-open and semi-closed mode
Tidal Volume:5000-15000ml
Gas source:O2,0.3--0.4Mpa
O2 Flush valve:25L/min--75L/min
Flow meter: high precision O2 flow meter, 0--1L/min--10L/min, O2&N2O or O2&N2O two tubes flow meter is option.
CO2 circle absorber: with soda lime chamber, APL valve, airway pressure gauge, inspiration valve and expiration valve, the inspiration and expiration valve is demo-type and visible.
APL valve:0--60cmH2O, adjust easily
Airway pressure gauge: -20cmH2O--100cmH2O &-2Kpa--10Kpa
Soda lime chamber:8Liter, it is easy to change soda lime and used for over 1000kg animal.
Bains connector: it is used for open breath circuit, connect with Jackson breath circuit or bains breath circuit.
Anesthesia vaporizer: TEC3 vaporizer. Enflurane, Isoflurane,Halothane,Sevoflurane, one vaporizer with selectatec compatiable mounting bar
Standard configuration
Anesthesia machine with one vaporizer
Reuable breath circuit Reserve bag 5L O2 gas source pipeline
Optional configuration
Reusable breathing bag15L or 30L,Stand,Laryngoscope
Endotracheal intubation,Large animal Endotracheal tube funnel adapter(silicon)
Endotracheal tubeconnector,Anesthesia ventilator(Surgivet)DHV 1000
ETCO2 monitor, SPO2 monitor Patient monitor,Rescue and Resuscitation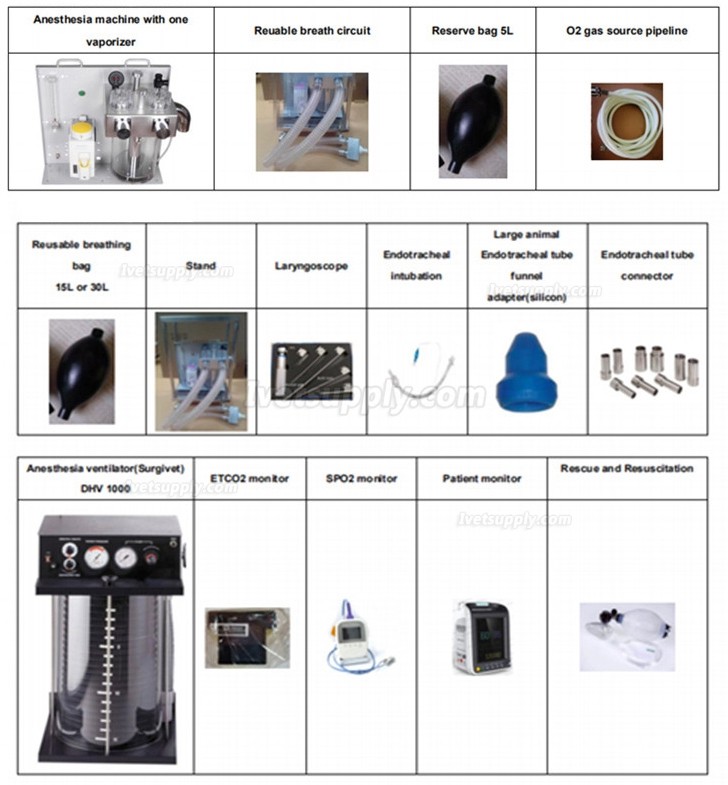 Prev:
Veterinary Disposable Anesthesia Breathing Circuit Expandable 1.2m for Anesthesia Operation Accessories
Next:
20PCS Beekeeping Tools Isolation Room ​Insectary Box Queen Cage Bee Clip
Related Products