Veterinary Portable Pressure Steam Autoclave Sterilizer 18/24L (Electric or LPG heated )
Veterinary Portable Pressure Steam Autoclave Sterilizer 18/24L (Electric or LPG heated )
Introduction:
The product utilizes saturated steam to rapidly and efficiently sterilize articles. It can be used in hospitals, public health centers, health stations,clinics in factories and mines, scientific research institutes, etc, to sterilize medical equipment, surgical dressings, glass utensils, solutions,substrata. It can also be used as cooker in plateau areas and be used to make high quality drinking water in industrial and mining enterprises.
Characteristics:
• Fullystainless steel structure.
• Electric or LPG heated.
• Working pressure: 0.l4-0.16Mpa
• Working temperature: 126℃
• Double scale indication pressure gauge.
• Easy to operate, safe and reliable.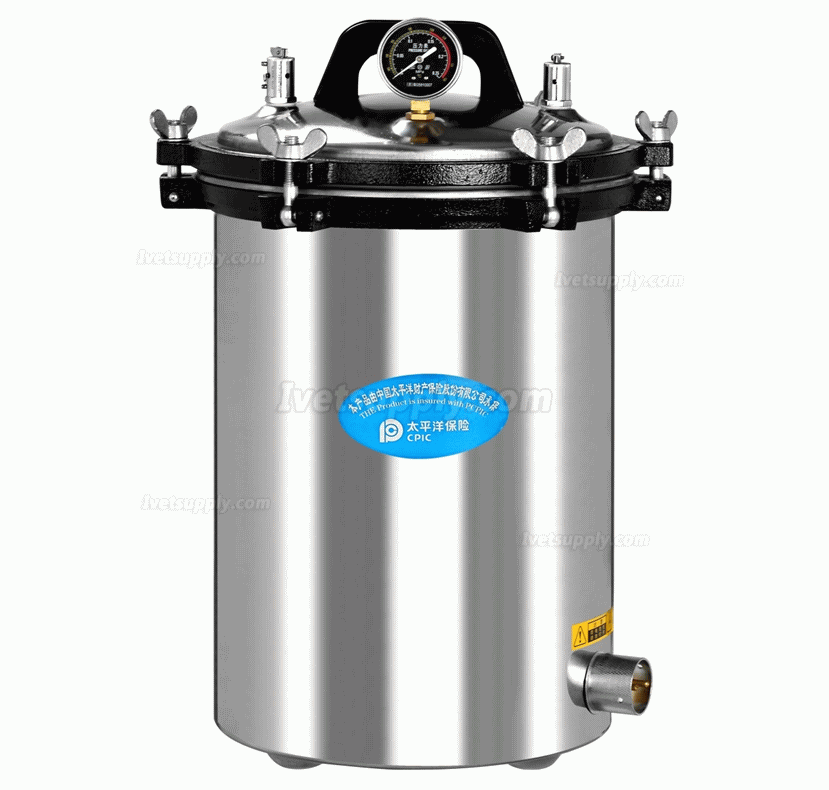 Technical Data:
Model
WTA-18LM
WTA-24LM
Technical Data
Sterilizing volume

18L

φ280×260mm

24L

φ280×390mm

Working pressure
0.14-0.16Mpa
Working temperature
126℃
Max.Safety pressure
0.165Mpa
Power
AC110/220V 60/50HZ/2KW
Transport dimension(mm)
410×410×430
410×410×550
G.W/N.W
16/14Kg
17/15Kg
Properties:Disinfection Equipment
Product name:Veterinary Portable pressure steam autoclave sterilizer
Material:Stainless Steel
Power:AC100/220V 60/50HZ 2KW
Application:Vet, Hospitals, Public health centers, Health stations, Clinics and etc.
Prev:
Veterinary Full Auto Hematology Analyzer/Vet Blood Analyzer 5 Part Diff
Next:
Veterinary Portable Pressure Steam Autoclave Sterilizer 18/24L 126℃
Related Products