Veterinary Direct Ophthalmoscope Equipment With Power Adaptor
Veterinary Direct Ophthalmoscope Equipment With Power Adaptor
Product Characteristics
·Ophthalmic lens is made of precisely grinded superior optical glass. Newly designed optical prism, no corneal reflex, and even lightening makes clear ophthalmoscopic image in fundus.
·Otoscope is equipped with various size of speculum, suitable for different size of antrum auris and easy to installed in the handle. It also has illumination light source and 3 times magnifying glass. Nearly overlapping illumination optical axis and magnifying glass is suitable for further observation.
·Nasal speculum is equipped with illumination light source and 3 times magnifying glass. After nostril is opened by supporting blade, examination of nasal cavity and simple small surgery can be conducted.
·Illumination provided by 2 to 3 kinds of laryngeal mirror and tube of suspension is convenient for examination of mouth cavity and throat.
·Tongue depressor can provide illumination by combining with handle, therefore can clearly examine throat.
·Novel and beautiful handle, easy to be connected with different parts, like nasal speculum, otoscope head and ophthalmoscope head.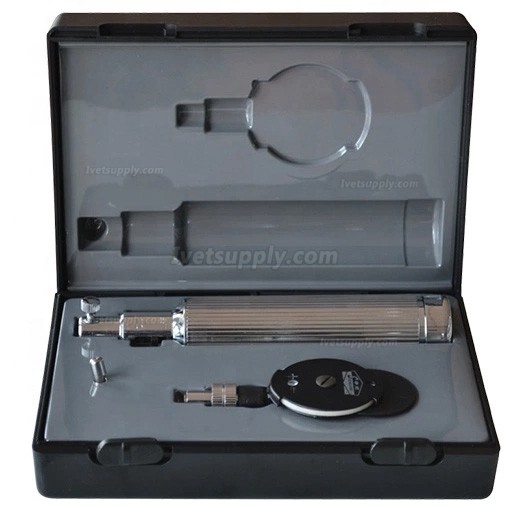 Prev:
Veterinary Tabletop Slit Lamp Microscope (3-Magnification)
Next:
Veterinary Digital Slit Lamp Anterior Segment Analysis System
Related Products