ABGENOME Veterinary One Step Rapid Canine Adenovirus CAV Ag Test Kit
ABGENOME Veterinary One Step Rapid Canine Adenovirus CAV Ag Test Kit
Product display and packaging 10 test / box
Product Features
1.Our Rapid test series enables the detection of very low viral loads, from the end of the incubation period.
2.Our Rapid test series is a quick and easy diagnostic tool that can be performed during a consultation in just 10 minutes.
3.The accuracy is over 99.9%.
4.We have experience of manufacture for various rapid test kit.
5.Our customers are all over the world ,so you will get the most professional service.
6.We are the golden supplier of Alibaba, and we are the long-term top supplier of globalsources.
7.We have lots of Rapid test series for you reference and choosing.
8.If you have any request,email us,you will get the quickest reply.
Product Description
1.The Canine Adenovirus Ag Test Device is a immunochromatographic assay for the qualitative detection of Canine Adenovirus antigen (CAV Ag) in canine respiratory tract or blood.
2.The CAV Ag Test Device has a letter of "T" and "C" as test line and control line on the surface of the card. Both the test line and control line in result window are not visible before applying any samples.
3.The control line is used for procedural control. Control line should be always appear if the test procedure is performed properly and the test reagents of control line are working. A purple test line will be visible in the result window if there are enough CAV antigen in the specimen.
4.The specially selected antibodies are used in test band as both capture and detector materials. These enable the device to identify CAV antigen in canine respiratory tract or blood with a high degree of accuracy

Materials (10 tests/kit)
1) Test -------------------------------------------------------------------------------------------- 10 units
2) Diluent (buffer) ------------------------------------------------------------------- 0.4 x 10 units
3) Disposable dropper -------------------------------------------------------------------------- 10 units
4) Swabs for sample collection --------------------------------------------------------------- 10 units

Uses
1) Specimen
Canine ocular discharge or nasal discharge.

2) Storage of specimen
a) Store specimen at 2~8°C for use within 24 hours or at -25°C for later use.
b) Keep the specimen at 22~25°C before use.

3) Test procedure
a) Collect canine ocular or nasal discharge with a swab and put the swab into a sample
tube containing 0.4 of buffer.
b) Swirl the buffer with the swab.
c) Drop 4 drops (100) into the specimen well.
d) Read the test results within 5 – 10 minutes.
♠ Invalid result after 10 minutes

4) Interpretation of the results
A purple band should appear on the control line regardless of the test result. The presence of another band on the test line determines the result.
Control Line (C): The line should always appear regardless of the presence of the antigens of canine adenovirus. If this line does not appear, the test should be considered invalid. This is might be because of impure buffer or the lack of specimen. It should be tested again with another kit.
Test Line (T): The presence of antigens of canine adenovirus determines the test line.
1) Negative: Control line only appears.
2) Positive: Both Test and Control lines appear.
3) Retesting
a) Both Test and Control lines do not appear.
b) Test line only appears

5) Further examinations
This test is for primary screening only. Consult veterinarians for further necessary
examinations to obtain clinical test results.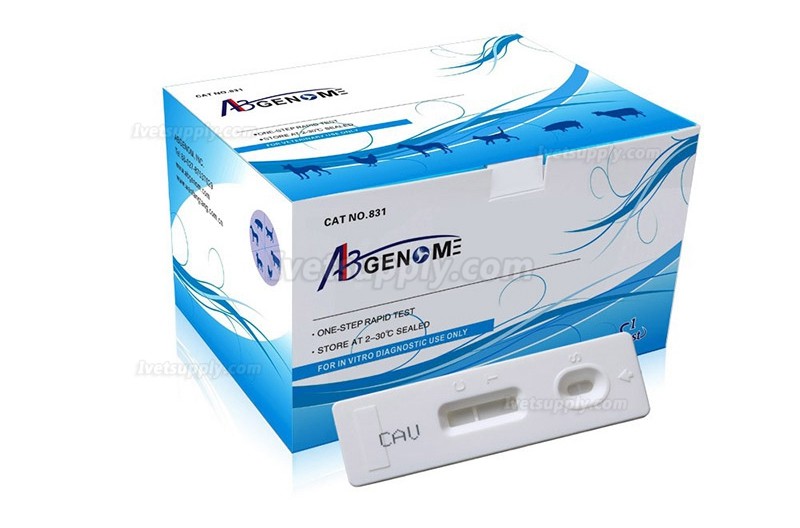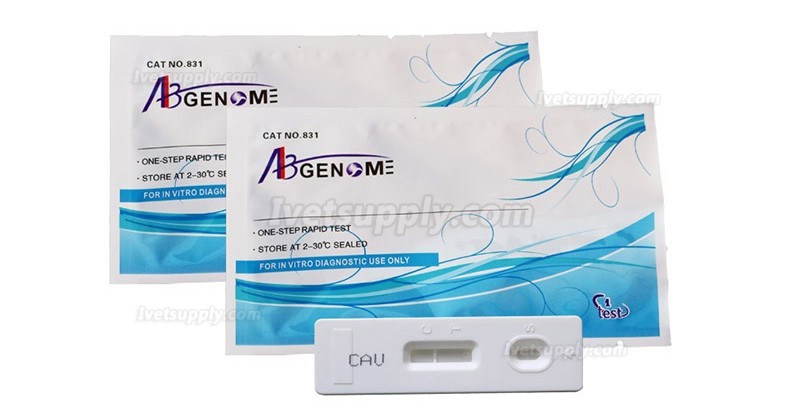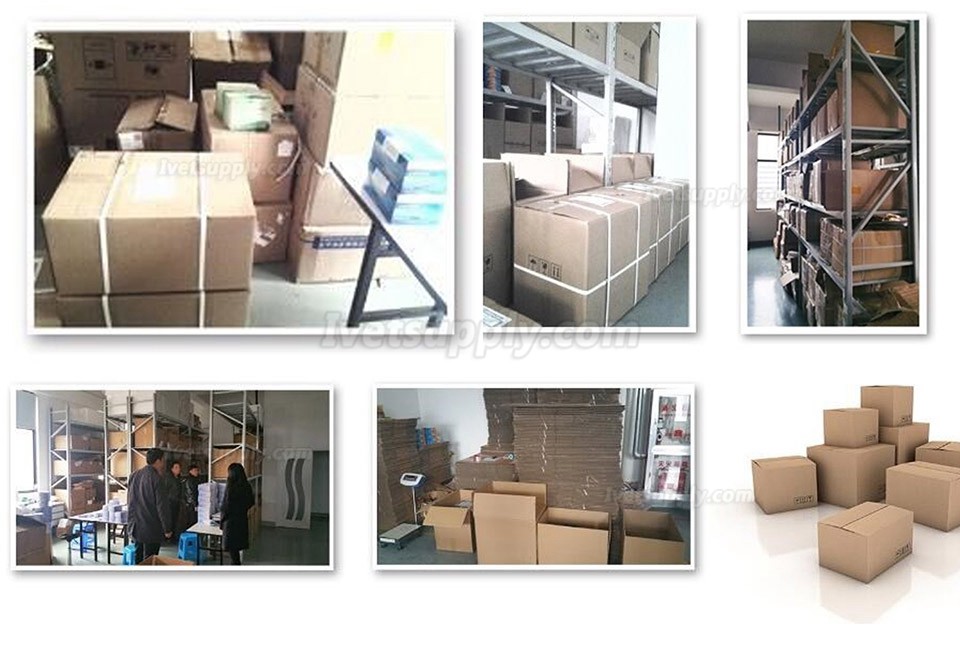 Prev:
YUEXIANG Veterinary Hydrochloric Acid Urine Food Test Card Clenbuterol Triple Detection
Next:
ABGENOME Veterinary canine Leishmania Ab LSH Test Canine LSH Ab Test
Related Products