JNR DK-A Veterinary Electrosurgery Unit High Frequency Surgical Generator
Brand: JNR
Availability:

In Stock
JNR DK-A Veterinary Electrosurgery Unit High Frequency Surgical Generator
Features
1. Veterinary electrosurgical cautery unit has three operating modes: single-pole cutting, unipolar coagulation, bipolar coagulation, the simple toggle, full-featured.
2. Unique design of the anus conductive rod, the operation does not require shaving, simple operation and satisfy pet owners.
3. 10 different power settings, strong power, stable output. dedicated bipolar coagulation forceps with small animals, and seven specifications of heads for the application of different surgical needs.
4. Accurate, efficient soft tissue cutting and coagulation control is necessary for clinical operations of the modern animal.
5. UHF design, national patent products.
Technical parameters
1. Type of the electrosurgical unit: bipolar electrosurgical unit
2. Operating frequency: 1.5 ~ 1.7MHz
3. Rated load: 500Ω
4. Output power: Unipolar cutting 0-300W
point coagulation 0-300W
bipolar coagulation 0-150W
5. AC input: 220 V±22V 50Hz±1Hz
6. The size for the bipolar electrosurgical generator: 24*23*13cm
7. Accessories: autoclavable
8. Gross weight: 9.48kg
9. Size of the package: 51.5*37*29cm
Components
Host of high-frequency electric knife X1
High temperature and high pressure disinfection cutter head X6
Pedal switch X1
Negative plate X1
knife X1
Power line X1
Anal conductive rod X1
Double coagulation forceps X1
Double condensate line X1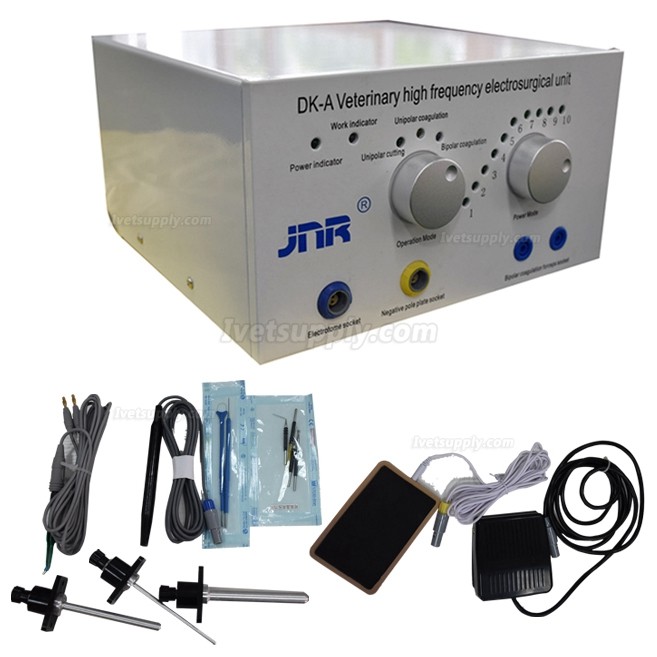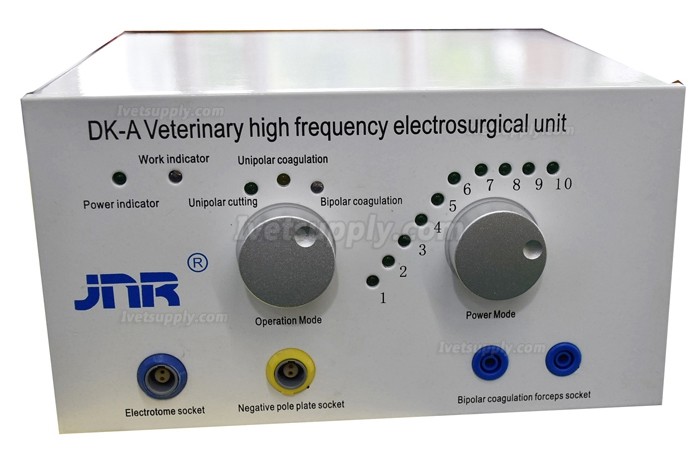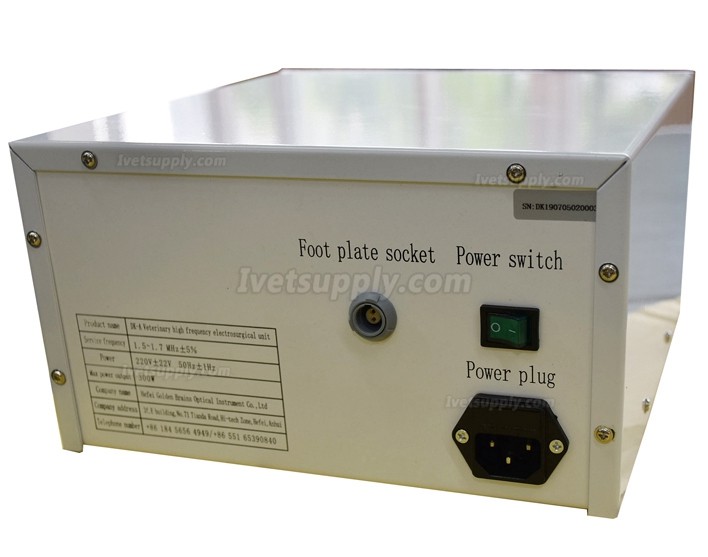 Prev:
JNR Veterinary Mouth Opener Animal Pet Mouth Gag For Cat and Dog
Next:
JNR DS-200 Veterinary Doppler Blood Pressure Meter Kit Animal Doppler Sphygmomanometer
Related Products