100-300W Ultraviolet Ozone Stainless Steel Disinfection Trolley Ultraviolet Sterilizer Lampe with Radar Sensors
100-300W UVC +Ozone Stainless Steel Disinfection Lampe Ultraviolet Sterilizer Trolley with Radar Sensors
Power 100W/150W/300W is suitable for area of 40-200m2. It is specially used for large areas (schools, hospitals, factories, office kindergarten cinema guesthouse restaurant, etc.)
Our mobile 100W/150W/300W high power UVC light sterilizer trolley that emit a high intensity ultraviolet light that hits every surface in the room and kills any micro organisms or pathogen including MRSA,hand foot mouth disease,colds and flu,pneumonia,molds,e.coli,salmonella and similar type bacteria.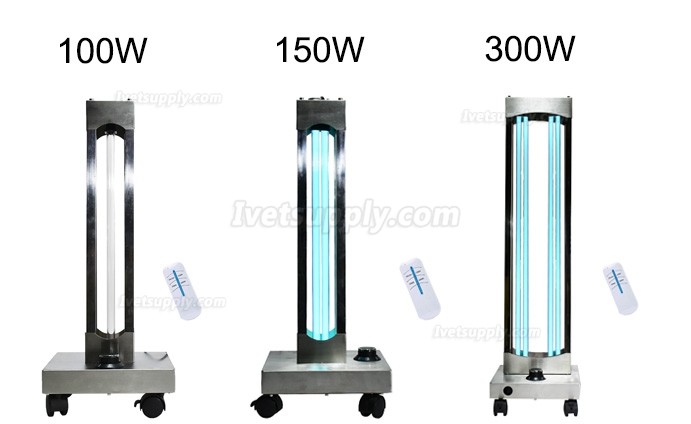 Applications:
Ozone disinfection, clean air.
Suitable for spring and autumn, breeding bacteria season.
Apply to new home, sterilization anti virus.
Control method: 0-60 minute manual switch + remote control
It is specially used for large areas (Hospitals, Schools, Factories,KTV,Hotels,Supermarket.etc.)
Specification:
UV wavelength: 185-253.7nm
Power: 150W
Voltage: 220V/110V
Size:30x30x120cm
Application area: 80 square meters
Cable length: 1.5M
Net Weight:6.5 kg
Main ultraviolet wavelength:185nm and 253.7nm
4.Caution
1.The voltage range should be less than 10%,or will affect the rated life.
2.The timer can set the sterilization time,the power will be cut off automatically.Follow the direction instruction.
3.Ensure the surface clean of UV lamp,or will affect the performance.
4.After using turn off the plug of power.
5.UV illumination less than 70% or more than 2000 hours working should change the lamp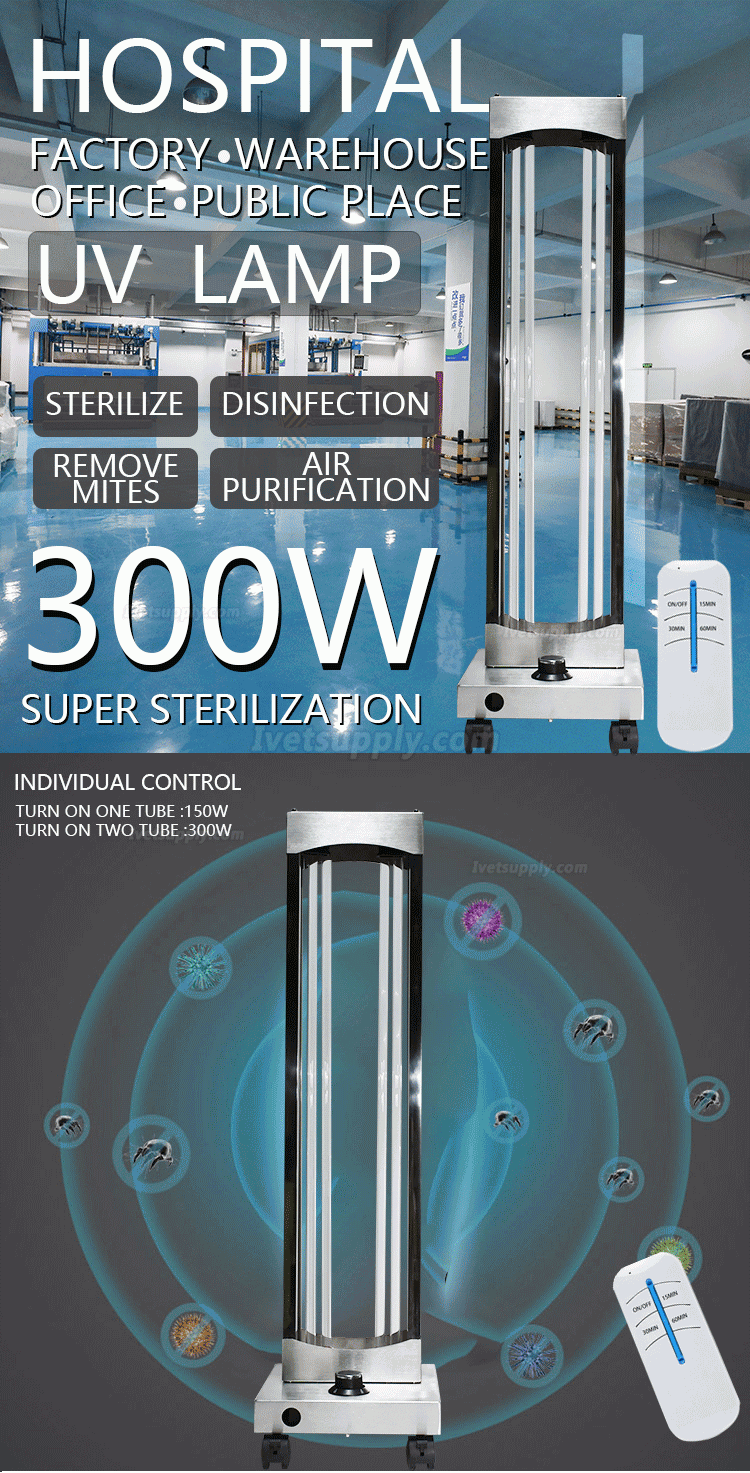 Prev:
1000-1500W Professional Ultraviolet Ozone Sterilization Trolley UVC Light Sterilizer Lamp
Next:
Micare JD1700L Veterinary LED Minor Surgical Lamp Shadowless Light Operation Lamp
Related Products